Two Winters and 365 Days
Title: Two Winters and 365 Days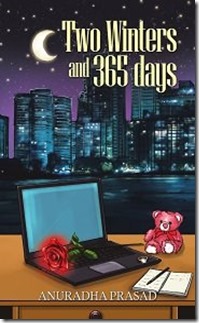 Author: Anuradha Prasad
Publisher: Partridge India
ISBN: 978-1-4828-1274-9
Number of Pages: 252
Price [INR] : 787
Genre: Fiction
When Ananya's life fell apart and crumpled at a young age she was helpless… with the sole intention of supporting her family… she takes up editing an equally crumbling lifestyle magazine AFTER-TEA… not knowing what lay ahead… thus… Ananya's journey into the mad mad world of the media begins. Though her journey as a professional is replete with adventure, thrill and risks she starts enjoying it …as fate could not steal away her innate talent and an eye for perfection…

But as they say in the beautiful Bollywood city of Mumbai anything is possible!

A die hard professional and a 'construction magnate' Vicky Arora falls hopelessly in love with simple Ananya. Though Vicky feels most happy and himself with her. Does she feel the same? Was she ready to look at love again in the eye? Or was life playing a double game with her? Will she fall this time never to get up?

Two Winters and 365 Days is a thrilling story of a journey replete with adventure, hope, romance, and of self discovery.
In any book, the first few pages of a story create an instant impression of its quality and value. Two Winters and 365 Days starts with a moment that changes everything in Ananya's life, which kind of shocked me, made me sit up and read ahead. Her husband dies in an accident leaving her all alone in Los Angeles with a few months old daughter. The story then moves around Ananya and her struggle to get her life back on track both emotionally and financially, in Mumbai. It is a story of a woman's journey of moving from low self esteem to new heights of success and confidence.
The book is divided into 4 parts which are titled as Winter, Spring, Summer and Winter. These 4 parts showcases the challenges and opportunities that comes Ananya's way, which also explains the rationale of the book title.
The mode of narration is descriptive and very detailed. The author's eye for detail is visible as she explains about the interiors and the accessories in Vicky's SUV or the variety of drinks that are available in his car's refrigerator, among other things. All these detailed descriptions slowed the pace of the story though it still engages you as a reader. Because of this descriptive narration, one gets some insights about the meditation and the NLP process, the criteria for award selection and a day in the life of a magazine editor.
The characterization is good and they are all every day people around us. The language is simple and limpid. A few Hindi words are used which are explained in a glossary at the end of the book.
While the end seemed to be a bit predictable, I would have loved to read more about Ananaya and Vicky's love story. Amanda's character looked very promising but she disappeared from the story pretty soon. The story could do with some more shocks and twists in the story!
Two Winters and 365 Days has a simple plot which has been executed well. It is definitely worth a read for its happy feel good factor and an inspiring story of a woman's journey towards self-discovery and love.
Rating : 3.5/5