The Kite Flyers
Title: The Kite Flyers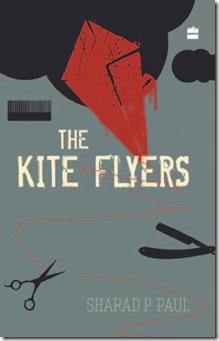 Author: Sharad P Paul
Publisher: Harper Collins
ISBN: 978-93-5029-617-2
Number of Pages: 186
Price [INR] : 399
Genre: Fiction
Kumar and Raman are champion kite flyers. Lakshmi makes delicious burfis.Their friendship develops on the banks of the Kaveri in a tiny village named 'crow shit'. They are inseparable till tragedy strikes, shattering their idyllic
childhood and altering the course of their lives.

The story then moves to Madras, into a house of eunuchs and the barber salon, Cool Cut. These are searing times in Tamil Nadu, and MGR is the revolutionary leader – God to his followers, who surge forward, their voices linked, their tongues loyal only to their mother tongue and to their deity. As the story follows the three friends coming to terms with their new lives, the author vividly brings to life 1970s Madras, with its politics of caste, geography, gender and language.

Ultimately, The Kite Flyers is a poetic fable of friendship, severance and redemption.
I started reading this book yesterday in the afternoon and finished reading it before tea time. Speaks a lot about the book. Isn't it?
The Kite Flyers is coming of age story of 3 friends, Kumar, Raman and Lakshmi. As kids, these 3 friends lived in a small village, KKP, near Salem in Tamil Nadu. They study in the same school and fly kites together in the evening. Misfortune strikes their lives and pushes them in different directions and reunites them many years later.
Amidst their trials and tribulations of life, MGR's growing prominence and power in Tamil Nadu and the general unrest of the Tamilians against Hindi is showcased too. The vehemence against Hindi in the state, kind of shocked me, but then that's a reality and the author has successfully portrayed and captured it in this story.
The writing is crisp and vivid and the language is simple and lucid. The book shares about the rituals and customs in a Tamilian wedding and lives of Eunuchs too. I liked the little pearls of wisdom Kadallaikiran,  the groundnut seller shares with these 3 children. Why the cursing and swearing makes one feel better or how marriage is like shaving, or that only unhappy couples or couples in Communist China stop with one child, makes for some interesting and thought-provoking read.
While the story moves well and keeps you hooked to it. The story has a few loose ends. The entry of Gowrie teacher in the epilogue came as a big surprise because she was not a part of the main story.
Overall, The Kite Flyers is a delightful read and will draw you in with its wonderfully narrated story and emotional resonance with the characters.
Rating : [usr 4 text="false" size=20]
The review is part of IndiBlogger / HarperCollins Book Review initiative.