As Life Has No Undo
Title: As Life Has No Undo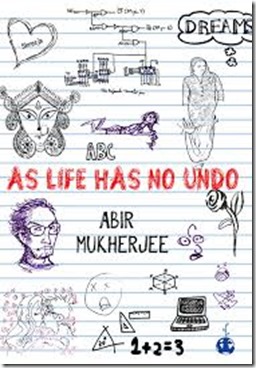 Author: Abir Mukherjee
Publisher: Blackbuck Publications
ISBN: 978-163102263-0
Number of Pages: 301
Price [INR] : 160
Genre: Fiction
Campus interviews are around the corner for the final-year students of Burdwan Engineering College. Everyone is busy honing their skills at the last minute except Ankit who wishes to see his parents for the last time.

Ankit, a simple boy and mediocre student from a lower middle class Bengali family has only two aims in his life-to become a computer engineer as per his parents wish and to spend his entire life with Shreeja, the lady love of his life. Shreeja is pretty, ambitious and career oriented. What happens when Debdeep walks into their lives?

Does Ankit have more things to lose than he ever imagined? Have you ever loved someone more than yourself? Have you ever felt the need of a undo button in your life?

This may be your story.
I don't think this was/would be my story. But this is certainly a story which is close to the author's heart, may be from his personal experience or from the experience of somebody close. The story starts much before the campus interview and charts the journey of Ankit and Shreeja and their other friends when they are in class 10. Their relationship of 6 years faces a storm when Deba enters their lives and that's towards the end of the book.
The earlier part of the book deals in detail about the daily life of these friends, in and around their tuition classes. While the book progresses well initially but fails to hold my interest towards the middle as it drags on with too many details. For example, all the rules of ragging or the rules in the computer lab and even the answer to what is Stochastic Process are shared in the book.
As Life Has No Undo has a nice love story. I believe this would appeal to the younger generation who is still in college or just out of it, but frankly, it did not work for me.
Overall, As Life Has No Undo is a quick one time read and it may take you on a nostalgic trip back to your school and college life.
Rating : [usr 2.5 text="false" size=20]