Ebbs & Flows
Title: Ebbs & Flows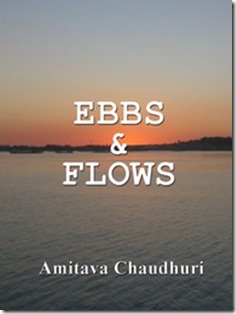 Author: Amitava Chaudhuri
Publisher: Blackbuck Publications
ISBN: 978-163102219-7
Number of Pages: 125
Price [INR] : 100
Genre: Fiction (Short Stories)
 Imagine.

A person you have wronged years ago suddenly returns to haunt your life. Or-you are faced with a situation where fate challenges you to dare follow the lofty things you had so openly preached. Or-a man who shamelessly boasts of his achievements suddenly finds his lie turning into a beautiful reality. Or-you discover a rather sinister side of the person you had secretly worshipped.

These situations can be faced by any of us. Correction-probably by none of us. That is because we are common people, destined to lead an ordinary life. However, no power in the world can stop even the most common of common men from imagining.

The answer to these imaginations is a tide of emotions-some joyful, some slightly depressing. But then, that is life-ebbs and flows of emotion.
Ebbs & Flows is a collection of 14 short stories which explore the various emotions we experience in the ebb and flow of life. The highs and the lows… the bitter and sweet, the grey days and the bright sunny days. And all these ups and downs, just like the tides, make our life interesting and worth living.
Almost all the stories in Ebbs & Flows, which are a slice of life of a common man, has some take-away, something to ponder on and something that touches you as a reader. What I liked about the stories is that they are all very realistic. The writing is simple and crisp and to the point with smooth narrative.
Some of the stories which I liked the most are, Man and Beast, The Cripple, All in Your Mind, Doubts, The Little Boy and His Goddess.
I wish the cover and feel of the book was more appealing and the book had more stories.
Ebbs & Flows is a quick breezy read and an ideal for a short journey.
Rating : [usr 3.5 text="false" size=20]