Sita's Curse – The Language of Desire
Title: Sita's Curse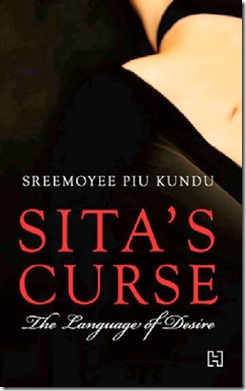 – The Language of Desire
Author: Sreemoyee Piu Kundu
Publisher: Hachette India
ISBN: 978-93-5009-780-9
Number of Pages: 332
Price [INR] : 350
Genre: Fiction
Somewhere, behind closed doors, in her solitary world; somewhere, under the sheets with an indifferent lover; Somewhere, is a woman who will not be denied.

Trapped for fifteen years in the stranglehold of a dead marriage and soulless household domesticity, the beautiful, full-bodied and passionate Meera Patel depends on her memories and her flights of fancy to soothe the aches that wrack her body; to quieten an unquenchable need. Until one cataclysmic day in Mumbai, when she finally breaks free…

Bold, brazen and defiant, Sita's Curse looks at the hypocrisy of Indian society and tells the compelling story of a middle-class Indian housewife's urgent need for love, respect, acceptance and sexual fulfilment
I was intrigued by the blurb of the book. I sat down, started reading, and didn't stop until it was over. I couldn't stop. Yes, it was a compelling read, no doubt about that. And when I sat after having read the last page, the last line of this book, I was left reeling from the thoughts and emotions experienced by Meera, as she discovers who she truly is.
Sita's Curse is an intense story of Meera Patel, a lower middle class housewife living in the suburbs of Mumbai, in a house with a window in the whole chawl!! It's a story of her transformation from a small town girl married off to a man who lets her stay at her parents' home even after a year of marriage. And when he does take her, it is to trap her in a loveless, sexually abusive and dull marriage.
The book is divided in 2 parts and the part 1 deals with her relationship with her twin brother who is her soul mate in every aspect. When she turns 13, she becomes aware of her body, her desires and needs. Part 2 deals with Meera's life post marriage where she discovers herself as a woman with sexual desires and emotional needs.
Sita's Curse explores a woman's desire for love, acceptance and sexual gratification which is still a taboo in our country, the land of Khajuraho and Kamasutra! The book has a lot of graphic sex scenes but the idea is not to titillate. To me, it represents the empowerment for women, the recognition of women and their sexual desires and cravings.
Sita's Curse is a mature and well developed story line with a plot and characterizations that are very realistic. The sub plot of Amarkant Maharaj who is worshipped by millions, especially women, has sex with women whose husbands are sterile with the blessings of their family elders is kind of shocking though we know that it does happen and is a leaf from the real life. The relationship between Mohan and Vrinda needed to be explored a bit more. I mean, I am curious to know how their relationship reached that level of comfort and familiarity. The sudden 'disappearance' of the lovable and friendly Kartik and Bansi who were also Meera's well-wishers is a bit disheartening.
In all, Sita's Curse definitely is impudent, offbeat and bold but definitely a must read
Rating : [usr 4.5 text="false" size=20]
This book review is a part of The Readers Cosmos Book Review Program. To get free books log on to thereaderscosmos.blogspot.com