Rise of the Sun Prince
Title: Rise of the Sun Prince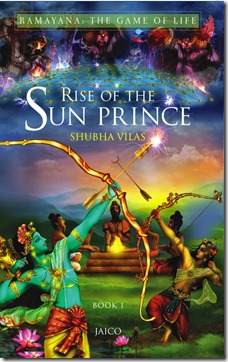 Author: Shubha Vilas
Publisher: Jaico Books
ISBN: 978-81-8495-530-9
Number of Pages: 217
Price [INR] : 250
Genre: Mythology
This is the second book that I have read in the recent past on Ramayana! Before picking this book, I had some inhibitions, as I had read The Exiled Prince which is a uniquely different telling of the Ramayana, narrated from a stunning new point of view – Rama's own. I wondered what would be new or different in Rise of the Sun Prince!
And as I started reading this book, I got sucked in this mesmerizing and gripping narrative and thought provoking instruction of the world's greatest epic which has been retold in Rise of the Sun Prince.
Rise of the Sun Prince is the first book in the series of six volumes titled "Ramayana: The Game Of Life". This book is based on Valmiki Ramayana's Bala Kanda but also explores other versions too. It deals with the divine story of Lord Rama from his birth up to his marriage. I believe a lot of research has been done by the author as this book showcases not only the lives of Rama and people around him but also there are a lot of stories of Gods, demigods, demons, gurus which makes for an insightful and interesting reading. The stories of how Lanka was formed or what boons were given by Lord Brahma to Ravana and his brothers and how Kumbhkarna instead of asking for nitya-tvam (eternity) asked for nidra-twam (unlimited sleep) or that the monkeys in Rama's  army were actually demigods, how Rama and his brothers were born and how they were named and many more stories engaged the reader in you.
What I liked the most about this book is the footnotes on almost every page giving detailed background information and practical learnings culled from the various facets of this epic story. The various principles and laws viz the law of self control, awareness, trusteeship, balance, the principles of marriage shared in the book elucidate how these can be applied in all our relationships. and these words of wisdom can help us navigate and steer the ship of life through stormy seas and clear skies alike.
The language in the book is simple and compelling and the narrative is crisp and vivid!
It is said that Ramayana is not a book, it's a way of life and through this book the one can look at life in a newer perspective!
Highly recommended for all those who enjoy reading Indian Mythology.
Rating : [usr 4 text="false" size=20]