Working Hard is Not Good Enough
Title: Working Hard is Not Good Enough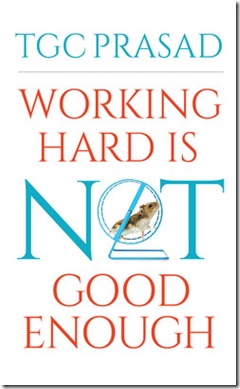 Author: TGC Prasad
Publisher: Random House India
ISBN: 978-8-184-00323-9
Number of Pages: 248
Price [INR] : 299
Genre: Non-Fiction
Less than 2 percent of entrepreneurs succeed, only 15 percent employees get the best hikes, promotions and appraisal ratings. Less than 1 percent get to senior management positions and higher.

Does this mean the rest do not work as hard or are not as smart? They are! But there are subtle, yet profound differences. According to bestseller author, TGC Prasad, there is more to accomplishments than just working hard or at times even being smarter.'Working Hard is Not Good Enough' is an insightful management book for all who want to make a difference to their performance, potential and life in general to achieve success and importantly happiness.
The book title piqued my interest while the blurb at end of the book sealed it for me. And the preface of the book set the expectations right. Working Hard is Not Good Enough is a book for people who find happiness and sense of satisfaction in working hard. If one is looking at honing their insights over and above the hard work that one puts in, then this is the book for them.
The book has 15 chapters and each covers a specific topic or the ingredients needed to bring about a change in our thoughts and perspectives to make it big in life. There are stories and contemporary real life examples from local and global businesses that help drive home the point, successfully. The theory part is kept at bay, in the book.
Some of the topics, insights and examples that impressed me are:
Human Experience. Unleashing the power of human experience and creativity makes people think differently and come out of the conservative and traditional mind-sets that they usually box themselves into. In one experiment, people conquer life-long snake phobias by following a series of increasingly demanding interactions.

Watch a snake through a two-way mirror.
Once comfortable, people would watch it through an open door.
Then they would watch someone else touch it.
They they would start touching the snake using a heavy leather glove.
Finally, in a few hours, they would touch it with their own hands.

Unlearning. To attain knowledge, add things every day. To attain wisdom, subtract things every day.
Listening. Between 2007 and 2010, Medtronic's (US Pharmaceutical company) revenues grew from $12.2 billion to $15.8 billion, a 30% growth with a consistent bottom lin. Apparently, William Hawkins III, the CEO spends almost 50% of his time dealing with people issues. What does he do most of the time? Listen and attend!
Innovation. Tupperware is one of the most innovative companies in the world, which targeted women, home appliances ad direct marketing model, where consumers became both the buyers and the sellers.
Diversity. McDonald's (UK) allowed its employees to share their job with family members. The policy allowed family members over 16 yrs of age viz. children, spouses and grandparents to share jobs by swapping the shifts without notifying McDonald's management.
The book is not specific to any one industry or a cross-section of people, it is a general management book and will be useful to any student, executive or professional. The book certainly shares a lot insights and soaking them will make some difference to the way one works and lives life!
An insightful, informative and an interesting read.
Rating : [usr 4 text="false" size=20]