The Vigil and Other Stories
Title: The Vigil and Other Stories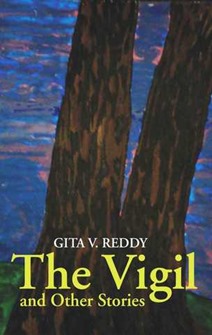 Author: Gita V Reddy
Publisher: Frog Books
ISBN: 978-93-82473-34-3
Number of Pages: 168
Price [INR] : 125
Genre: Fiction (Short Stories)
From the Blurb:
'Delusions' has Rohit, an actor par excellence, slipping into different characters even when he is not supposed to be acting. Devika, his fiercely loving wife, finds an unorthodox way to draw him out of his delusions.
In 'The Square', three successful painters hold an impromptu contest with their friend, who is unknown and a recluse. The result is expected or is it?
'The Vigil' is about Naina, a young expectant mother, who is also a very busy professional. She makes all arrangements for the birth of her child but finds she has missed out on something very vital. Is it too late to make amends?
'A Lifetime' is about the choices Tara makes when she falls in love under the ominous shadow of honour killing. Can she live with her choice?
Fifteen stories, myriad emotions, diverse characters, milieus, situations make The Vigil and other stories a compelling read.
Review : The Vigil and Other Stories is a collection of 15 short stories. I simply enjoyed reading these short stories as I found something interesting in each one of them. Each story has a different subject, a different style and perspective which explores diverse emotions. The stories are vivid and are written with clarity thereby giving insights of various human experiences.
The Vigil is a delightful collection with many flavours. Some stories compel you to think, some touch a chord with you and some simply thrill you. There's humour and amusement, sadness and shock too!
In A Life Time and The Gift, the emotions of unrequited love and the resultant pain and agony are captured so beautifully.
Time and Space is a story of a woman who finds that her personal space is encroached by her grandchildren and how she finds a way to be assertive and gets back her time and space.
Sita's Lives is an remarkable story of how Sita must have felt when her purity was questioned and she was made to pass through the fire and why she called upon her mother, Earth, to swallow her up, when her sons meet their father Rama.
Dreams Can Tell is another story that surprises and shocks.
The language of the book is simple and expression is very lucid and there is honesty is all the stories.
A light and interesting read, The Vigil and Other stories is highly recommended.
Rating : [usr 4 text="false" size=20]

This book review is a part of The Readers Cosmos Book Review Program. To get free books log on to thereaderscosmos.blogspot.com