The Perfect Groom
Title: The Perfect Groom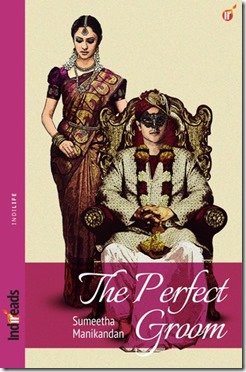 Author: Sumeetha Manikandan
Publisher: Indireads Inc.
ISBN: 978-1-927826-14-0
Number of Pages: 162 (Estimated)
Price [INR] : 175
Genre: Fiction, Romance, Contemporary
Type : eBook
 Very little has gone right in Nithya's young life. So, when a proposal from a young, handsome NRI comes along, her mother jumps at the opportunity and packs her daughter off to the US with her perfect groom.

Nithya seems to have settled in with Ashok, ostensibly happy, if as yet childless, in her new life. When an old flame comes back into her life, however, the cracks in her perfect marriage begin to show.
The Perfect Groom is a captivating and an engaging novella which I finished reading in 2 hours. It is a realistic story based on a taboo in our society. Nithya is trapped in a loveless marriage, has a domineering mother-in-law who leaves no opportunity to grill and insult her for not blessing the family with a grandchild. Then, she also has scheming family members and a mother and sister whom she doesn't want to hurt. Despite the odds against her, she emerges as a fighter and is pretty strong and confident. And at no point she is bogged down by the circumstances or spends time lamenting or cribbing about the cards stacked against her.
I liked the storyline, as it is slice of real life and can happen to anybody. The narrow-minded people, the wily relatives, the perceptions of a 'perfect groom', the effect on the marriage of a younger sibling if the elder one is divorced are some of the commonplace happenings and beliefs of our society, which has been explored well in this novella. The story also gives a sneak peak into the Tamilian lifestyle and culture. The characterization is good and one connects with the characters real soon.
I liked Sumeetha's simple and conversational voice which is candid and honest. The story flows smoothly making it an interesting and enjoyable read.
The Perfect Groom is a story which has a lot of drama, twists and turns and of course romance too. With its fast paced and an entertaining story, The Perfect Groom is an enjoyable read!
Rating : [usr 3.5 text="false" size=20]