Haveli
Title: Haveli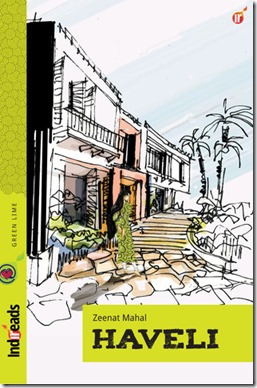 Author: Zeenat Mahal
Publisher: Indireads Inc.
ISBN: 978-1-927826-02-7
Number of Pages: 93 (Estimated)
Price [INR] : 250
Genre: Fiction, Romance, Contemporary
Type : eBook
It's the 1970′s in Jalalabad, an erstwhile princely state in Pakistan. Chandni is a self-proclaimed cynic and prefers to be called C. An orphan brought up by her domineering grandmother, a.k.a. The Broad, C is rebellious, quick-witted and stunningly beautiful.

When Taimur, a.k.a. Alpha Male, enters the closed universe of the haveli, he is smitten, but he'll never admit it.

The stakes get higher when the father, who had so cruelly abandoned her at birth, returns and C's dream of reuniting with him becomes a reality. But now she has to choose between her father and his hand-picked groom on the one side, and Alpha Male and The Broad on the other.
When I read that the story of Haveli is set in Jalalabad of 1970's, the first thought that came to my mind was about getting a peek into the conservative life style and culture of the then Pakistan! I was pleasantly surprised to read about a family from erstwhile Pakistani royalty which is suave, sophisticated and extremely well read and educated.
Haveli is a story of Chandni, who prefers to be called C is beautiful, smart and loves to give caustic replies. She lost her mother as a child, is abandoned by her father and is brought up her grandmother, the widow of the last Nawab of Jalalabad. The Broad, as C calls her grandmother, rules the haveli with an iron fist. C is home tutored and is made to learn multiple languages, ballet and kathak, amongst other things. C wants to marry Kunwar who is twice her age and has a teenage daughter but the Broad wants her to marry Taimur or Alpha Male whom C loves to hate. To add to the drama, Nameless or C's father enters her life and promises to make up for all the lost time and wants her to marry a person of his choice.
Finally who is C's groom, well, you need to read Haveli to know that!
I loved reading Haveli and that's because of the witty, humorous and intelligent expression of the author. Zeenat's style of writing is very engaging and lucid. Assigning nicknames to the various characters is an interesting approach. The 'literary' conversations between Chandni and Taimur are entertaining.
Haveli is a short breezy romance with charming characters, a fast paced storyline with funny and quick-witted dialogues. This is one novella, that I would love to re-read again!
Haveli is definitely a must read!
Rating : [usr 4 text="false" size=20]