The Malhotra Bride
Title: The Malhotra Bride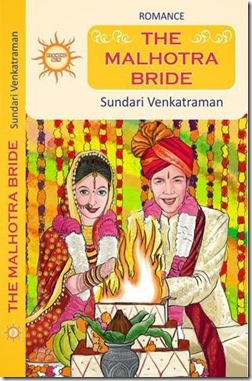 Author: Sundari Venkatraman
Publisher: Flaming Sun
ASIN: B00IE4R20U
Number of Pages: 143 (Estimated)
Price [INR] : 187
Genre: Fiction, Romance, Contemporary
Type : eBook
Sunita Rishi's just turned twenty, having completed her graduation. She wants to fly free as a bird, explore career options and travel the world. Does she have a choice when Mamma & Pappa insist on arranging her marriage? Born in a rich business family steeped in tradition, Sunita has a tough job on her hands. Can she stop the tide?

Tall, dark and handsome, Akshay Malhotra is the catch of the decade. The only son of Billionaire Raj Malhotra, he's in a strange fix. His father's keen that Akshay meets Sunita with marriage in mind. He's too close to his parents to say 'no' for the preliminary meeting. And then he comes face-to-face with Sunita….

Will Sunita be falling from the frying pan into the fire when she agrees to become The Malhotra Bride?
The Malhotra Bride is Sundari Venkatraman's self published, second edition of her first novel, the first being a paperback. I have read her other book Double Jeopardy and had liked it, so was keen to read this book too. I finished reading this book in an hour or so, during my recent train journey. The Malhotra Bride is a story of arranged marriage between two rich and beautiful people, Akshay and Sunita. Both have respect for the Indian traditions and culture but are opposed to the concept of arranged marriage.
Because of the love for his parents and pressure from hers, Akshay and Sunita decide to meet, as planned by their parents. While it is love at first sight for Akshay, Sunita takes time to warm up to him. And she asks him to draw a prenuptial agreement. How things turn out for both of them, well, you need to read The Malhotra Bride to know that!
I liked Sundari's voice in the book which engages the reader in me. The characterization is good and it evokes the feeling of love or hate from the reader. Like one would absolutely hate Sunita's father and adore her grand father and wish for a groom like Akshay!
While the narrative flows smoothly and the storyline is pretty fast paced, I found some aspects of the storyline too clichéd and some too unrealistic. The attack on Akshay came as a a bolt from the blue. The transformation of Sunita, the naive good girl to a sexy siren in a span of few days or the parents leaving the two in the hospital and retiring for the day seemed too farfetched!
Overall, The Malhotra Bride is a nice breezy romantic read with some drama and twists.
Rating : [usr 3 text="false" size=20]
Linking this to July 2014 Ultimate Blogging Challenge and NaBloPoMo