Meghna
Title: Meghna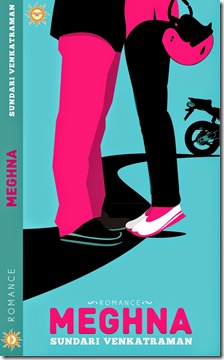 Author: Sundari Venkatraman
Publisher: Flaming Sun
ASIN: B00KUPUURS
Number of Pages: 173 (Estimated)
Price [INR] : 194
Genre: Fiction, Romance
Type : eBook
The young and dashing Rahul Sinha lives in England with his parents, Shyam and Rajni. He is an only son of the rich banker. Rahul is totally attached to his father but does not care for his mother.

Rahul is exulted with his efforts at work paying off and plans a holiday with his best friend Sanjay Srivastav who lives in Mumbai with his wife Reema, kids Sanya and Rehaan and most importantly, his sister, Meghna. Rahul recalls meeting Meghna just before they parted six years ago.

Meghna works for a website and also teaches modern dance as she loves it. She's thrown for a toss when Rahul comes visiting. She had thought he had forgotten them.

But how could Rahul do that? Sanjay's his best friend and Rahul had always treated their home as his own. Sanjay's mother had been more of a mother to Rahul than his own. Rahul had stayed away after moving to England or so Meghna believes.

Thus begins the story between Rahul and Meghna, the teasing, the flirting, the anger, the tears… …will they find love?
The blurb of the book pretty much tells you what to expect. And as I read Meghna, it was exactly what was promised. It did truly what it was meant to do – brightened up my day and gave me a smile.
Meghna has nicely drawn characters that one can relate to and a story line that is interesting and entertaining. Some parts of the story were just a little unbelievable to me, though, especially the hijacking part. The overall story is good, the sizzle is nicely done and the climax is delightful. A vivid, rich, descriptive style with not a single dull moment in the story, the author manages to keeps you engrossed in either sweet romance or high emotional drama. Two families with contrasting family values and traditions has been brought out well. The fact that all the misgivings and the misunderstandings get sorted very easily without much drama, leaves you be a bit disappointed. Written in simple and lucid language, with playful banter and facetious dialogues between Rahul and Meghna, the book makes for a light, fun and frothy read.
The cover design could have been better. The pink trousers clad Rahul on the cover certainly does not match with the cool and suave Rahul depicted in the inside pages!
Meghna is yet another entertaining read from Sundari Venkatraman.
Rating : [usr 3.5 text="false" size=20]