Beyond School
Title: Beyond School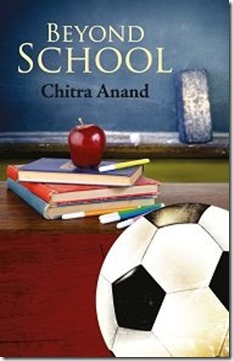 Author: Chitra Anand
Publisher: Frog Books
ISBN: 978-93-83562-40-4
Number of Pages: 201
Price [INR] : 125
Genre: Reality Fiction
Beyond School centres upon the weeks leading up to 17-year-old Shail's final board exams, as his world becomes a pressure-cooker and the weight of preparing for the exams sends him fleeing rebelliously in the other direction.

Along with Shail's journey from boyhood to manhood, Beyond School vividly weaves between the narratives of four main characters, seamlessly uniting the past and present of Shail, his parents – Urmila and Sushil and his mentor – Gladys, in a story that is honest, funny, heartbreaking and ultimately, incredibly human.
Beyond School is a coming-of-age story of Shail, a grade twelve student who come to grips with the reality of life and undergoes a change in this thoughts and matures as a person.
Teens is a phase of life which can be quite turbulent and is indeed a testing time for not only the teenagers but even for their parents. Beyond School is a reality fiction that brings to light, a lot of issues faced by the teenagers and their parents.  It brings to the fore, the concerns viz parental pressure for academic excellence, emphasis on academics vis-a-vis sports, disrespectful or defiant behaviour, disregard for rules and responsibilities, involvement in high risk and reckless activities, poor study behaviour and skills, communication gap between parents and children, among other things. The story also encompasses the elements of teen love affairs, the thrill of speed and gadget dependence too. The author who is an educator has neatly packed all these issues in the story. It is a story which all parents can relate to.
The author being from the field of education and my son who would be a teen soon, compelled me to read this book and to know the world of modern teens through her voice of experience. And Beyond School is definitely an interesting and an enlightening read. My only gripe about this book is its poor sentence structure and incorrect grammar usage throughout the length of the story. This was a big dampener for me.
Beyond School is an honest representation of the challenges faced by the teens and their parents in a global society.
Rating : [usr 2.75 text="false" size=20]
This book review is a part of The Readers Cosmos Book Review Program. To get free books log on to thereaderscosmos.blogspot.com