Digs, Dogs and Drama
Title: Digs, Dogs and Drama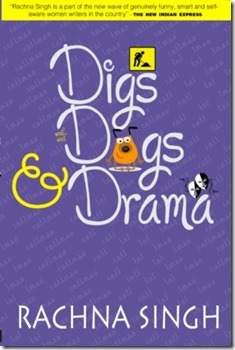 Author: Rachna Singh
Publisher: White Tarantula
ISBN: 9384180092
Number of Pages: 248
Price [INR]: 240
Genre: Humour
'Digs, Dogs and Drama' is a humorous book in the genre of anecdotal humor. It is compiled like a diary of fun: each chapter an independent blob of humor. The neighbor's dog. The dramatic ultrasound scan.The wedding reception. Alooparathas versus curd rice. 100% shuddh Indian. Events. Happenings. Experiences. Just day-to-day stuff. Traffic Jam?Angry boss? Ruined Haircut? Power cut? Need instant cheering up? Any chapter will do.

Rasam? Burger? Rangoli? Bollywood action? Want a desi smile? Start from anywhere in this book. You won't be able to put it down.
Digs, Dogs and Drama is a fun and funny view on various experiences drawn from real life, author's life actually! The 46 short chapters reflect the every day life around her. So, you have anecdotes on PTMs, types of mothers, fashion, foreign travel, dogs, bollywood, weddings, success, U.P. bhaiyas, meetings, and even elevator woes… All these chapters are independent of each other and can be read from anywhere and in any sequence.
The smiles and laughs begin right from the first page of the book, where the author mentions, "No animals or editors were harmed in the making of this book!"Agree with the author when she says that there's no deep meaningful message from any of the anecdote shared in the book, it is just about smiles and laughter and that you get in plenty when reading Digs, Dogs and Drama.
Some of the chapters are simply hilarious, some are just about ok, while for some chapters, it appeared that she tried too hard to be funny! My absolute favorites are Alumni Meets (could relate to it completely!), Twenty-Five signs that you are a U.P. Bhaiya, Why God made mothers, The Bhaiya guide to Bangalore…
Written in a conversational style, the simple and the fluid narrative, gives the feeling of sharing some fun and interesting time with a good friend. The book moves at a fast pace and the wit, satire and humor amuses you, the anecdotes in the book are the ones that one can relate to completely and all this keeps the reader in you hooked to the book. Another plus point of Digs, Dogs and Drama is its impeccable editing. I know, it is a given in any published work, but we know how the current scenario is!
All in all, Digs, Dogs and Drama is a fun and an entertaining read. I read 4-8 chapters at a given time during  work-breaks or travel and the book managed to give me a lot of smiles and a few good laughs. Go for it for some easy breezy amusing light reading!
Rating : [usr 3.75 text="false" size=20]