Play With Me
Title: Play With Me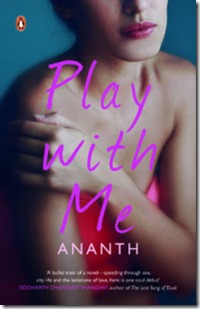 Author: Ananth
Publisher: Penguin India
ISBN: 978-0-143-42362-1
Number of Pages: 245
Price [INR]: 250
Genre: Fiction
Once in a very blue moon, you are confronted with astonishing beauty.

Sid is a successful photographer in a boutique ad agency. He is single and has everything he wants – a great job, great colleagues and a hassle- free life. But if there is one thing that has eluded him, it is love. Until the gorgeous, free-spirited Cara walks into his life. Sexually obsessed, the two begin a charged affair that disrupts all his notions of love and transforms the way Sid thinks about erotic pleasure. But then something strange happens – Sid finds himself falling in love with another woman.
A book that is a debut novel. An author who is Sr. Vice President at Penguin Books. And the genre that is erotica. All this made Play with Me an interesting, impressive and an intriguing package. With great expectations, I started reading this book. And I finished reading it one sitting of three hours!
The story line is simple with not many twists. But still the author manages to grab your attention with writing that is crisp and clear and a narrative that is smooth and engaging. The witty and humorous dialogues makes you smile. The tenderness and fierceness of the love scenes is very vivid and you can almost feel the passion and the sizzling chemistry. Play with Me is not only just about erotica. It will not touch you deeply but will surely make you think about love and lust and about life and the complexities of relationships too.
Play with Me is definitely an enjoyable, breezy read that will whirl you in a range of emotions right from the very first chapter! The climax disappointed me a bit as I was looking at something conclusive for Sid. But I read in the author's interview that there will be a sequel. 'Think of Me' will pick up where Play with Me left off – as there are incomplete sentences and unresolved relationships. And I cant wait to read 'Think of Me'.
In short, Play with Me is engaging, enticing and enchanting. Go for it, if you enjoy this genre!
Rating : [usr 4 text="false" size=20]