Kingdom Come
Title: Kingdom Come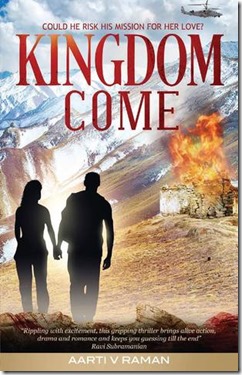 Author: Aarti V Raman
Publisher: Harlequin
ISBN: 978-93-5106-397-1
Number of Pages: 311
Price [INR]: 299
Genre: Fiction
Krivi Iyer is an embittered former spy and bomb defusal expert with only one regret. That he couldn't catch The Woodpecker, a dangerous, mentally unstable bomber who ended his partner's family. He has a second chance to go after his arch enemy with the arrival of Ziya Maarten, the manager of 'Goonj Business Enterprises' in Srinagar, Kashmir, who is alleged to be The Woodpecker's sister.

Except, Ziya is a beautiful distraction and not a terrorist's sister.

When a tragedy in London tears Ziya's life apart, she can only rely on Krivi to give her the absolution and vengeance she needs to move on. Between training to be an anti-terrorist squad member and finding The Woodpecker, Ziya uncovers the secrets of Krivi's tormented past.

But will two tortured souls find the courage to love?

Set against the serene beauty of Kashmir, Ladakh and Tibet, Kingdom Come is a gripping story of death and loss, vengeance and retribution, love and life.
Kingdom Come is more of a romantic thriller. Against the backdrop of bombs blasts and bomb disposal, kidnapping, terrorists is a passionate love story of Krivi and Ziya. Krivi's past haunts and distresses him. To make peace with his past, he has a mission to complete and Ziya could lead him to his enemy who is the insane Woodpecker. Ziya is unaware of the existence of the Woodpecker and has no clue of Krivi's past. In the course of time, she falls in love with him. As Krivi lets his past dominate his life, will love enter his life? Will love ever come their way? You need to read Kingdom Come to know all that and much more.
I liked the immaculate research the author has done for the military operations. This made the story-line very realistic and made it all the more credible. The plot of the story is a novel one and the characterization is good. Loved Noor's character, I wish there was more of her in the story. The pace of the story is good and keeps you engaged. The climax takes you by surprise and is executed well.
Coming to the big dampener! No marks for guessing. It is the editing! The book is poorly edited and lacks proof-reading. Sentences like, "What's your gut tell you?" or "Now let me the hell go." take you away from the intense scene that is about to unfold and make you cringe. I wish authors and publishers are vigilant about the quality of their work.
In a nutshell, Kingdom Come is an admirable debut, although there is a room for improvement.
Rating : [usr 3 text="false" size=20]