www.marryAghost.com
Title: www.marryAghost.com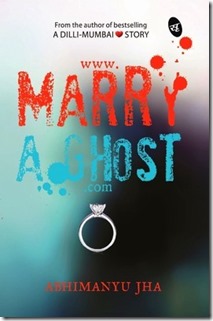 Author: Abhimanyu Jha
Publisher: Srishti Publishers & Distributors
ISBN: 978-93-82665-19-9
Number of Pages: 246
Price [INR]: 195
Genre: Fiction
Oh…
You cannot go without me!
I know you are tired, but come,
This is the way.
– Rumi

Maahi has lost her way. The tired, desperate young soul who remembers nothing except dying next to sea waves and a strange golden-haired man.

Veeru is a young, happy-go-lucky entrepreneur who creates www.marryAghost.com, and gets pulled into an adventure when Maahi registers as the first 'ghost'.

Asmita Burman is an old, half-blind professor who finds Maahi inexplicably, can hear and see ghosts, and knows way too much about them.

And then there's D'Mello, a five-hundred-year-old ghost of a Portuguese nobleman also searching for Maahi, mysteriously appearing and disappearing.

Who will help Maahi get freedom by finding her golden-haired beloved in fourteen days before she gets trapped on earth, maybe forever?

Join the age-old battle between good and evil – a race between time, freedom and love that will eventually put the entire world in danger.
Ghosts and their world which is full of mysteries and unexplained phenomena fascinate and intrigue me. That their stories spook me at night is another story! The blurb of the book www.marryAghost.com promised a lot of excitement and thrill, so with great horror-laced expectations, I started reading this book.
The plot of the story is a novel one. A young entrepreneur Veeru, sets up a dating website www.marryAghost.com as a challenge. Maahi becomes her first client. Maahi has died recently and needs to find her way out into the oblivion within 8 days or else she will be trapped in this world in an intensely painful state for a long time. And the quest starts to find the man Maahi loved as that would help her finish her unfinished business on this earth. In the process, Veeru falls in love with the beautiful ghost, Maahi and they meet a 500 year old ghost of a Portuguese nobleman Mr D'Mello who is somehow related to her death.
I enjoyed reading most part of this book. Veeru and Maahi's love story is tender and cute. Dr Burman adds to the intrigue. The way Maahi's dream is decoded, the teleporting and telemorphing done by ghosts and that ghosts can experience emotions is interesting.
The story moves ahead with the sharing of point of views of Veeru and Maahi after every incident. While, it is a different style of treating a story and it helped explain their thoughts/intentions better but it was repetitive most of the time.
And finally when I read the last page, the big bubble of thrill and excitement burst, just like that, all of a sudden! It was a WTH moment which left a bad taste. I understand that a climax may not be the end of the story, the story can continue as a sequel in the next book, but in that book, the story has to resolve some conflict. www.marryAghost.com does no such thing. It just leaves the reader hanging with a three word phrase at the end. As promised on the blurb, there's no 'age-old battle between good and evil – a race between time, freedom and love that will eventually put the entire world in danger.'
www.marryAghost.com started with a lot of promise but left me disappointed as I kept the book down after reading the last page.
Rating : [usr 2.75 text="false" size=20]
This review is a part of the biggest Book Review Program for Indian Bloggers. Participate now to get free books!