Dancing with Demons
Title: Dancing with Demons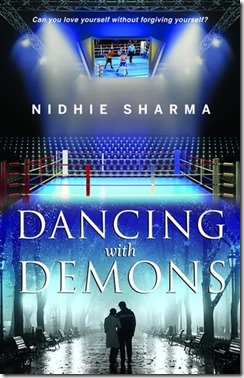 Author: Nidhie Sharma
Publisher: Harlequin India
ISBN: 978-93-5106-493-0
Number of Pages: 288
Price [INR]: 299
Genre: Fiction/Drama
The single most important moment had arrived in Karan Pratap Singh's life. He is in the finals of the National Amateur Boxing Championship. He had worked very hard for this and was a few moments away from victory and glory which would have made him represent India in the coming Olympics. But then something happens in the stadium. His past came back to haunt him and he loses it all in a moment. He is banned from boxing for four years. He plummets from the top, lives in squalid conditions and struggles to survive.
Fate brings Sonia in his apartment and life who is also fighting some ghosts from the past.
At nearly the breaking point, Karan gets a chance to fight again and Sonia gets a slight breather. But can they bury the demons of their past? Can they forgive and forget the past that torments them? Well, you need to dance with the demons to know that.
Dancing with Demons is a fast paced story that makes for a very interesting and exciting read. The story takes you in the world of boxing,  where brutality and bruises meet and and one needs only fists and fortitude to compete. Personally, I don't like this sport, but it was interesting to know what happens both in the ring and behind the scenes. The author has captured this straightforward and barbaric pursuit which contains vestiges of our primitive impulses, beautifully.
The story is engaging and redolent with emotions. The language is simple and lucid. The characters are well etched out. The conflict faced by the characters which adds to the drama in the story-line is brought out well. Dancing with Demons is a well written story and that compels you to keep turning page after page, till you reach the very end. I finished reading it in two sittings.
Dancing with Demons is not just about boxing. It is about the rise, fall and resurrection in love and in life. It is about facing your inner fears, conflicts and critic and emerging victorious.
Dancing with Demons is an enjoyable and an engaging read. Go for it!
Rating : [usr 4 text="false" size=20]