Scorched by his Fire
Title: Scorched by his Fire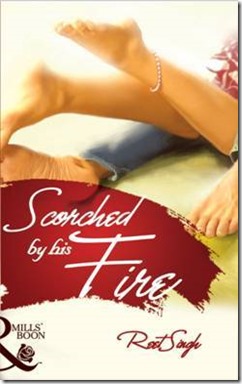 Author: Reet Singh
Publisher: Harlequin India
ISBN: 978-93-5106-374-2
Number of Pages: 194
Price [INR]: 125
Genre: Contemporary Romance
Mita is fed up of her uncle's overactive matchmaking drive. He is forever lining-up a string of potential grooms for her to choose from. She is not ready to say yes, after all, she is just twenty six and raring to experience life.
She meets Tanay at her best friend, Samrat's house warming party and their meeting is, well, fiery and explosive! Tanay believes her to be having an affair with Samrat and wrecking his sister's marriage.
Circumstances push the duo to be together and they are happy to put on a charade of being in love for their respective families. For her this meant, no more meeting 'nice young man' and for him it was a way to 'save' his sister's marriage. But is it actually a charade?
Set in Mauritius and then moving to Delhi and Kolkata with a brief stop-over at Dubai, Scorched by his Fire is a classic love story with a fresh new feel. I liked the way the romance developed in this story. The slow transition from hostility to a deeper understanding and eventually, to love is beautifully expressed. The chemistry between Mita and Tanay explodes on the pages. Kudos to Reet for making it so tasteful and so incredibly hot.
Reet's writing is smooth and lucid. It is not only visually stunning but is evocative too.
Certain parts cliche, certain parts stereotypical, certain parts predictable, but I still enjoyed this book for what it was – romantic and sweet.
All in all, Scorched by his Fire is a truly heart-warming and a hot love story, and the one I would recommend to all fans of contemporary romance. Read it and feel the heat!
Rating : [usr 3.75 text="false" size=20]
 Buy Scorched by his Fire @ Amazon.com  and Flipkart 
 This Tour is Hosted by 

Facebook | Website | Blog Tours | Twitter | Pinterest | Linkedin