Eliminate Classroom Hunger
Millions of children across the length and breadth of our country do not have the opportunity to go to school and get an education because they are forced to earn their daily meal.  We all know that a hungry belly has no ears. Nothing will interest a hungry child other than food. And going to school for acquiring education and learning would be the last thing that would cross their mind.
Even if they do go to school, hungry kids can't learn. Hunger impacts their ability to concentrate resulting in headaches and stomach aches and  poor academic performance.
Akshaya Patra is a non-profit organisation is the implementing partner of the Mid-Day Meal Scheme in schools and works on a vision goal that "No child in India shall be deprived of education because of hunger."
Through the mid-day meal programme, Akshaya Patra  Foundation attempts to feed millions of children in India who have the zeal to learn and achieve, but not the means. By feeding them that one wholesome meal a day, they are giving them the motivation and nourishment they need to pursue an education and a better future. This philanthropic initiative is helping in addressing many of the crucial factors contributing to poverty and child labour in India, while working to spark a movement that will eradicate this social evil from Indian society.
We all can do our bit and join hands with Akshay Patra Foundation and reach out to help eliminate classroom hunger.
A donation of just Rs 750 will feed a child for an entire year! Corporate companies can ask their employees to donate Rs 750 per month as part of corporate social responsibility. This way each employee can help feed 12 children for an entire year! Giving for a noble cause, as part of company initiative would instil a great sense of common purpose and pride amongst the employees.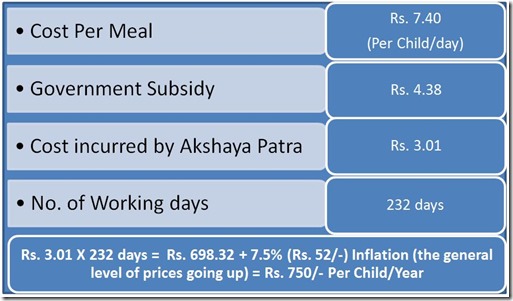 Similarly, children in city schools can be a part of this initiative by contributing Rs 100 every month. This small individual amount can make a big difference in the lives of many children who have a hard road for a plate of food.
I am going to #BlogToFeedAChild with Akshaya Patra and BlogAdda.
Kudos to BlogAdda for joining hands with Akshaya Patra to end classroom hunger. For every blog post we write, BlogAdda will sponsor meals for an Akshaya Patra beneficiary for an entire year, as a part of their Bloggers Social Responsibility.