Dettol Multi-Use Wipes : Review
I am a cleanliness freak. I wasn't like this always. I don't know when it happened but over the years, the general regular habit of having neat and clean things around somehow transformed into obsession. The plates and spoons at the restaurant have to be wiped clean, always. The serving spoons at the buffet have to be held with a napkin. The hands need the mandatory wash before eating. The dust on the laptop or the hand prints on the dining table glass are never missed by my hawk eyes.
Thank God for the wet wipes which I carry in my bag all the time. Needless to say, that when I heard about Dettol Multi-Use Wipes, my cleanliness-obsessed head and heart did a little happy dance as Dettol is the name that is synonymous with hygiene and disinfectants. I used the Dettol Multi-Use Wipes in and around my home.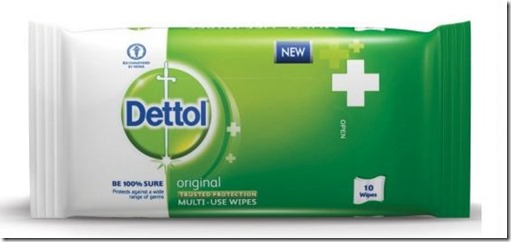 During travel, a wet wipe helped to get rid of dust and grime on face, neck and hands and gave that fresh feeling. Dettol Multi-Use Wipes are alcohol free, and are gentle on the skin and I liked its pleasant fragrance too. The wipes are of a good size and thick and durable too.
Cleaning hands before eating in a restaurant and even wiping the not-so-clean table was easy.
Removing eyeliner and lipstick swatches on hand with Dettol Multi-Use Wipes was impressive. And this is considering that the eyeliner was smudge proof and doesn't comes off easily. Also the emollients present in the wipes kept the skin moisturized.
Wiping dust and grime from gadgets like Laptop, TV Remote, Smartphone, Tablet was simple and effective. Dettol Multi-Use Wipes are sufficiently moist to give a thorough cleaning of these surfaces.
Cleaning kitchen granite countertop, laminate kitchen cabinets, microwave, refrigerator, food processor, glass table-tops and even sandwich maker ensures germ free surfaces. And keeping the door bell, the door handles, faucets bug free was never so easy.
The cleanliness freak in me is happy with Dettol Multi-Use Wipes because of following reasons:
Protection from a wide range of germs.
Since it is alcohol free and has moisturizers so it is gentle on skin.
The fresh fragrance is mild that lasts for a while.
Good size, thick and durable napkin ensures instant and thorough clean-up of all surfaces.
Convenient and easy to use wipes for fast and hygienic surface cleaning.
Each wipe is easy to pull out easily unlike some brands where two or more wipes end up coming out of the pack.
Re-sealable pack, prevents the wipes from drying out.
Dettol Multi-Use Wipes have a shelf life of 24 months and are available in packs of 10s (x3) and 30s and are priced and Rs 120 and 115 respectively!
Dettol Multi-Use Wipes provide protection from germs for both skin and surfaces, at home and on the go. Needless to say, that it is an integral part of my bag and I am going to keep one in our car too.
You can buy Dettol Multi-Use Wipes online on Flipkart.