Is Laundry Only a Woman's Job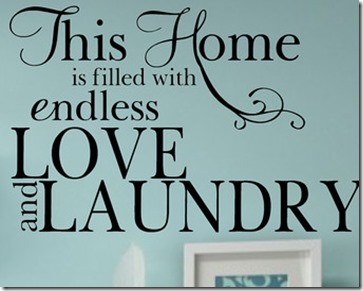 I believe, this quote was written for our family!
Laundry is considered probably the most boring chore but not at our home. With three small kids, my mom had her hands full and laundry baskets fuller. Of course, her passion for cleanliness /hygiene, pushed some additional clothes in the laundry basket. In those days, washing machines at home were unheard of. The clothes were washed by hands then. Though I don't remember seeing my dad washing clothes but he helped in making soap at home.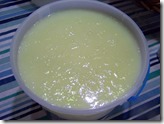 Yes, those days, making laundry soap at home was a fad. The soap was made and then solidified and stored in big tubs. Dad helped in carrying the buckets of washed clothes from second floor to the terrace and helped in tightening of the clothesline.
And once the clothes were dry, mom would fold the laundry and arrange them in cupboards while Dad ironed clothes. As we grew older, we started helping both of them in folding and ironing. I remember, pestering Dad to let me iron the handkerchief in the end. Laundry was a family affair at our home.
When KG and I set up or our home after marriage, with both of us working long hours, household chores were a joint responsibility. Till date, we have never classified the various chores as 'His and Hers'. So, right from cooking, washing dishes, dusting to doing laundry, we do it without labelling it as one person's domain chore. Of course, I have the upper hand in finding faults in his laundry and it is his prerogative to pick on the food that I cook.
When, I saw these statistics from Ariel, I was surprised. I pondered over it for a few minutes and realized that while Dad helped in a lot of chores at home, he never really washed clothes and most of our male friends don't do laundry either.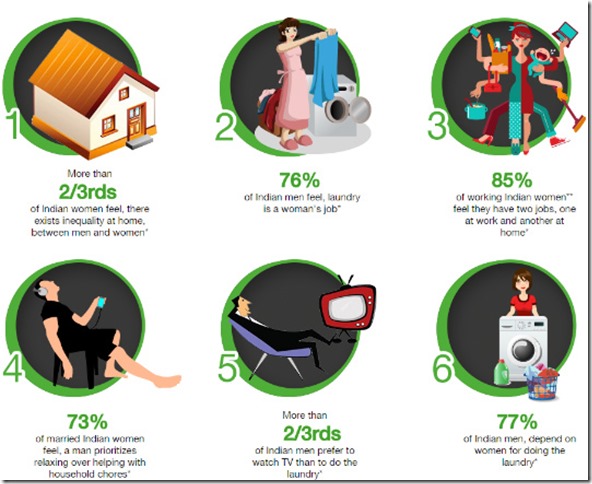 Washing laundry in a washing machine has become the go-to method for everybody now-a-days. And we have strong soaps and detergents which give clean and effective cleaning in minutes. It is no longer the tedious process of washing with hands and with soap bars that would lather with difficulty. So, I am amazed that despite the advancements in every sphere, laundry is still considered a woman's job. And that inequality is still prevalent in our homes.
I think the men who were a part of this survey were either from my Dad's generation or have a story which reads like this..
"I'm never letting you do my laundry. Again."
"I didn't know the red towel was in there," Prophet protested.
"You did it on purpose to get out of doing laundry."
"Maybe. But it worked." – S.E. Jakes
Jokes apart, just as so many men are entering kitchens and dominate them too, it's time, they enter the laundry room and …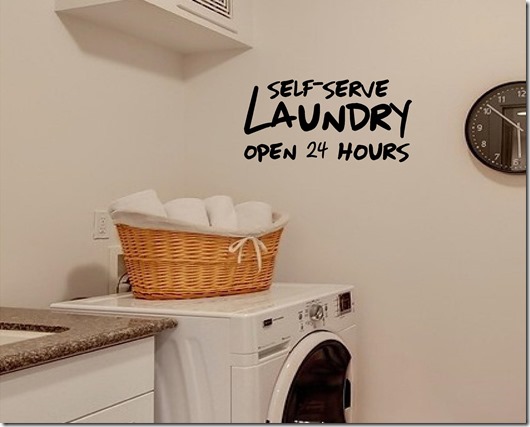 What's the laundry story at your home?
"I am writing for #IsLaundryOnlyAWomansJob activity at BlogAdda.com in association with Ariel."