Classified Chats with Quikr Nxt
Web sites that showcase classified ads have grown over the last few years. They have truly made life easier for buyers and sellers. I have posted many ads in the recent past on these online classified sites and I was surprised by the number of leads that got generated through these free ads. The initial euphoria of getting calls for the ads that I had placed soon died down as I faced an issue that was seemingly going out of hand.
It was a deluge of calls. It was overwhelming and that they came at all hours was bordering on irritation! Also some callers were just seeking information with no intent of buying and some were prank calls!!
And then, I came to know about a new feature from Quikr which is called Quikr Nxt.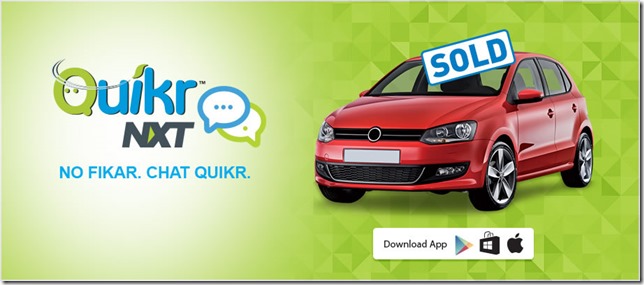 When my sister was thinking of replacing his existing car, I suggested her to do it through Quikr Nxt. We sat together and posted the advertisement for the car at Quikr.com. The MSP feature helped us to know whether there was synergy between our expected price and the maximum price our car would fetch.
Soon enough an instant message popped up on the screen. It was a message from a prospective buyer. He asked for some more car details which we provided instantly in the chat message. I liked that when we used Quikr Nxt, we didn't had to share our phone number /e mail id on the website. (We clicked 'Maintain My Privacy' in the 'Your Contact Information' when we placed our free ad. )This new feature gave us complete online privacy. Also we could chat with multiple buyers in parallel chat windows.
Unlike the earlier hassle of entertaining calls at all hours, with the chat feature at Quikr Nxt, one can chat at our convenience. So, no more excusing yourself in the middle of a meeting or no disturbance during your afternoon siesta!
Another fabulous feature of this instant messaging is that one does not have to refer to the notes or remember the exchange one had with so many prospective buyers. It's all there in the past chats histories. This is a life saver, actually! No more confusion and not much strain on the grey cells too.
Now, while posting the ad, we shared 5-6 pictures of our car, which were the view of the car from the front, side, back etc. One customer wanted to have a close-up of the upholstery and another wanted to know the speedometer reading. No problem there, all we had to do was click a few additional pictures of the car and share it with the customer. I think, this sharing of photos by addressing the specific customer query helps to close the deal better.
Soon we had a buyer whose expectations matched with ours. Thanks to Quikr Nxt, selling our car was so easier and hassle-free.
This post is written for Indiblogger and Quikr.com