Rapescars
Title: Rapescars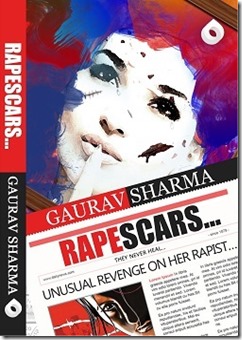 Author: Gaurav Sharma
Publisher: Petals Publishers
ISBN: 9788192982748
Number of Pages: 151
Price [INR] : 150
Genre: Fiction
Rapescars… They never heal 

A girl is raped! Her parents insist to report. Police tries to scuttle the case. Her fathers influence works! Doctor, the fourth man, sees her bare. The defence lawyer encounters with obnoxious questions.

As if, she had inveigled the innocent boys. As if, she's the one accused and her violators are seeking justice against her. She feels & experiences being raped in public again. Her lawyer manages to seek conviction!

Akriti wins the case but refuses her culprit to have imprisonment.
Why does she do this?
What does she decide then?
Is this the decision of 'her' or 'raped mind'?
Rapescars is the voice of a rape survivor who thrives to stand against the violation of her persona.
Rapescars is a chilling, haunting reminder of the heinous crime of rape that are inflicted on too many women in our society. It is a heart-breaking story of Akriti who has to deal with the physical, mental and emotional scars of rape. This book brings to the fore the long lasting effects on victims of assault, the struggles with shame, alienation, and the eventual fight for justice.
After the assault she has to deal with the trauma she has just endured again when she reports it to the police and later in the court of law and relives the whole attack all over again. This is of course tough not only for her but for her family as well. It is a story of coping with one of the life's worst nightmare, of survival, of courage and of moving ahead in life.
What I liked about Rapescars is that it is a bold attempt on a sensitive subject like rape. The research done by the author on the subject especially on the legal procedures/laws and medical aspects of rape is commendable. The retribution sought by Akriti is a bit unusual but not unheard of. Some of the dialogues in the book are profound and worth pondering.
What could have been better in Rapescars is certainly the editing, word-choices and sentence structuring. The climax seems to be a bit hurried.
Rapescars is about a burning issue that needs to be addressed by the law and by the society. It is a survivor's story who had risen above the stigma, victim blaming and physical and emotional trauma to reclaim her life. A must read.
This book review is a part of The Readers Cosmos Book Review Program and Blog Tours. To get free books log on to thereaderscosmos.blogspot.com