She Loves Me, He Loves Me Not
Title: She Loves Me, He Loves Me Not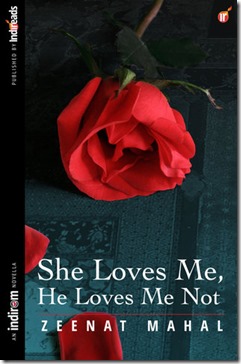 Author: Zeenat Mahal
Publisher: Indireads Inc.
ASIN: B00S1HKGIK
Number of Pages: 260 (Estimated)
Price [INR] : 150
Genre: Fiction, Romance
Type : eBook
Zoella has been in love with Fardeen Malik, her best friend's gorgeous older brother, since she was ten, but he's always seen her as a 'good girl'—not his type—and he can barely remember her name. Besides, he's engaged to a gorgeous leggy socialite, someone from the same rarefied social strata as the imposing Malik family. In short, Zoella has no chance with him.

Until a brutal accident leaves Fardeen scarred and disfigured, that is. Suddenly bereft of a fiancée, Fardeen is bitterly caustic, a shell of the man he used to be, a beast that has broken out of the fairy tale world he once lived in. And a twist of fate lands him his very own beauty—Zoella.
This man, however, is a far cry from the Fardeen of her dreams. Stripped of her illusions, Zoella creates her own twist in the fairy tale, beating him at his own game.

Zeenat Mahal explores themes of love, longing and arranged marriages in this modern, unusual interpretation of the old-age fairy tale.
I really loved 'Haveli', which was Zeenat's earlier novella.  When I got an opportunity to beta read the manuscript of She Loves Me, He Loves Me Not, I was thrilled and keen to get my hands on it. And am I glad that I picked it up!
How would it be when you marry the man you have been pining for since you were ten? It would be a dream come true. Right?! But what if  the dream is a far cry from reality?
Zoella, has a crush on her best friend's brother Fardeen ever since she was ten. While he has never given her more than a cursory glance, destiny binds them together as husband and wife. An accident leaves him scarred both physically and emotionally, making him all bitter and harsh and behaving like a jerk most of the time. Zoella's Miss Sunshine and Mother Teresa avatar helps her sail through the trying times.
She Loves Me, He Loves Me Not, is a contemporary beauty and the beast story set in Pakistan!
This book has everything a reader could ask for. Witty dialogues, clever humor, a handsome but imperfect hero, a strong heroine, a little turmoil and a heart-breaking love story, all of which make for a good recipe. You could not help but love the characters in She Loves Me, He Loves Me Not. I wanted to shake Fardeen at times and hug Zoella and wanted to high five Salaar, Swaba and their parents. The interaction between the characters is engaging and entertaining.
The vulnerabilities of Fardeen and Zoella have been brought out well and that helps the reader to understand their point of views. But their insecurities went on for a bit longer than necessary which kind of makes you feel like pulling your hair out. It takes time for them to overcome their prejudices and realize their true feelings.
And how did it finally end? Aah! I love closing a book with a smile on my face.
She Loves Me, He Loves Me Not is Fardeen and Zoella's journey toward each other… and love… with some drama along the way. A must read! And did I tell you that I'll be picking it up for the third time very soon!
Rating : [usr 4 text="false" size=20]