Compassion in Everyday Life #1000Speak
Dalai Lama famously once said, "Love and compassion are necessities, not luxuries. Without them humanity cannot survive."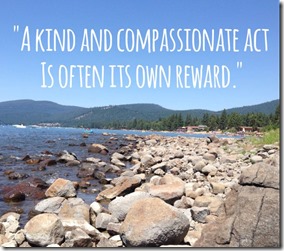 Too often we underestimate the power of a touch, a smile, a kind word, a listening ear, an honest compliment, or the smallest act of caring, all of which have the potential to turn a life around. Everyone around us is fighting some or the other battle. It doesn't take much to reach out and lift people up. No act of kindness, no matter how small, is ever wasted.
We all have witnessed this. Whenever someone offers his seat in a bus/train to somebody else, this small gesture positively affects not only the giver and the receiver but also the people who have witnessed this small and simple act. The giver feels generous, the receiver feels gratitude and the onlookers feel good on seeing a good deed of compassion and kindness. It is said, if you want others to be happy, practice compassion. If you want to be happy, practice compassion.
Compassion is the chief law of human existence.― Fyodor Dostoyevsky
We all can make a difference in lives of people around us. We can intentionally be kind to others and make it a daily practice and a way of life. Here are some small compassionate acts that we can do and change the world around us :
Eat lunch with somebody who is sitting alone in the office /college cafeteria.
Encourage someone who needs it.
Be generous with compliments.
Write a note of appreciation for the employee who offered excellent service at the cafe or the hotel.
Give someone recognition for something they have done with a pat on the back.
Buy coffee or a snack for the security guard outside your apartment or a cab driver who is driving you around.
Cook a meal for the sick neighbor.
Let someone go in front of you in a queue, especially a parent with a cranky child.
Help someone find a job.
Help someone who is in a financial trouble.
Acknowledge the people you meet in a store or fellow co-passengers with a smile.
Speak kindly and listen attentively especially to those who are going through a tough time.
Say something nice to someone.
Be someone's cheerleader.
Surprise friends and family by sending them cards, flowers, or small gifts for no reason at all.
Ask others what you can do to help.
Donate blood, books, toys, clothes, your long hair, money for victims of disasters or charitable organizations.
Help people who have dropped things, hold doors and elevators open for people and help elders/children cross the street.
Say "thank you" to someone who made a difference.
Spread the word for those who need referrals, like a wow photographer, a creative interior designer, a wonderful accountant, a new home baker…
This is not an exhaustive list, but it is a list to focus our intentions on making it a kinder, loving and beautiful world for ourselves and others around us. I believe in karma – it comes after everyone eventually… what goes around comes around, truly.  Your everyday good deeds are never in vain for they shall return to you even when you're not expecting it. So, keep your circle positive and practice small and random acts of kindness and compassion, everyday! Spread the cheer ♥
I am participating in the 1000speak movement by writing about Compassion. Do join us. Link your posts here. Stay updated by joining our Facebook group and our Google+ Community.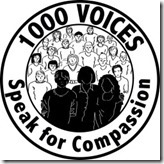 The 1000 Voices For Compassion #1000Speak Campaign