When She Smiled
Title: When She Smiled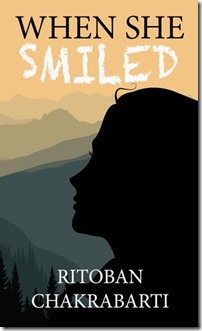 Author: Ritoban Chakrabarti
Publisher: Notion Press
ISBN: 978-93-84878-25-2
Number of Pages: 217
Price [INR] : 215
Genre: Fiction
Mrityunjoy Roy is a fifteen year old Bengali who has spent the last ten years of his life growing up in Shimla. While his family is completely academically oriented, he wants something more.
Finally he meets Akanksha in school, who turns his world upside down with her gorgeous looks and mind boggling smile.

As fate would have it, she joins his tuition, and thus begins the torrid year of puppy love, romance, heartbreak, tragedy, and self discovery.

Set among the scenic Shivalik hills of Shimla when mobile phones and internet were non-existent, this is a story of how an average young teenager comes to terms with his destiny.
The story in When She Smiled is set in a quaint little hill station of Shimla. Mrityunjoy or Roy as he is called by his friends joins his old school DAV in class 11 after a two year stint in an Army School. He meets Akanksha, his classmate and falls in love with her. When She Smiled is a coming of age story of this fifteen year old boy. It is his journey from being naive to wise as he navigates through studies, love and life.
Shimla is very close to my heart. I loved the sights, the places, the food and the beauty of the land that came live in front of my eyes, through the author's words. In fact, Shimla is an integral part of this story, it is almost like a character of the book. The realistic representation of the times during the 1990s is interesting. The story takes you back in time when the parents were really strict with their kids and their sole focus in life was their academic success. It is story of a period when entertainment was only through television and pocket money was less; when internet, social networking sites and mobiles had still not entered our lives.
While the incidents and anecdotes in When She Smiled make for an engaging read, there is virtually no story line in the book. There are hardly any twists and turns and the story mostly reads like a young boy's daily journal. I could not understand Akanksha's character, she seemed like a sweet nice girl in the beginning and was made into a negative character towards the end. As I was reading the book, I was looking for the rationale for the title of the book. And I found it on the last page (OK, second last page) of the book and it didn't seem convincing enough. Another oddity that I found in the book was the usage of 'Ram sake', instead of 'God sake'.
The climax was totally unexpected and very abrupt and one that leaves you disappointed and disconnected.
When She Smiled is an okayish one time read… not great but not boring either.
This review is a part of the biggest Book Review Program for Indian Bloggers.Participate now to get free books!