Little or Everything #MondayMusings
I discovered Dr Seuss's books pretty late in life. I just can't believe that I had not heard about his books when I have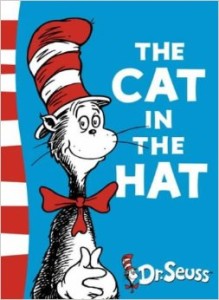 been an avid reader since I was a kid. I am still not able to fathom, why I never saw his books in our school and club library which had impressive collection of books. And then, I never came across his works when I was making Aaryan read books appropriate for his age. And this is when I have been buying books for him since he was a toddler!
When JK Rowling wrote, "I expect what you're not aware of would fill several books, Dursely", she actually meant it for me! As I was beating myself up for not knowing about this best selling author all these years, I realized that we cannot possibly know or be even properly informed about the majority of subjects in the world. In fact, we are all ignorant about so many things. The information available today is so vast, its depth and breadth boundless and bottomless.
As these thoughts were beginning to comfort me, I read a contrasting thought from Blaise Pascal. Yes, the gentleman who gave us the famous Pascal's Law and Pascal's Theorem. He believed in Little of Everything.  He said, as we cannot be universal by knowing everything there is to know about everything, we must know a little about everything, because it is much better to know something about everything than everything about something.
For me, this Little of Everything seems to be a scary and a tedious proposition at this moment, so, I'd like to console myself that we cannot know everything and it's better late than never.
And I have digressed so much. Coming back to Dr Seuss, it was only recently, when I found a review article on one of his books that my interest was piqued. I scanned the web and found a few ebooks and enjoyed listening to an audio book too. And now, I cant wait to read all the 46 books that Dr Seuss or Theodor Seuss Geisel has written.
Dr Seuss's books not only have imaginative characters and fantastical rhymes but great inspirational life advice too.
Today, I came across this infographic which has some inspiring quotes from Dr Seuss to help perk up our week . Enjoy reading and soaking in the wisdom.

Image :  Source
Have you read books from Dr Seuss? Do you believe in Little of Everything ? Is it actually possible?
Linking this to Write Tribe's #MondayMusings