Brutal
Title: Brutal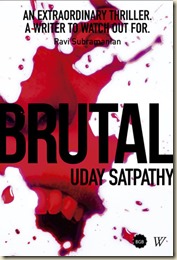 Author: Uday Satpathy
Publisher: Westland Ltd
Number of Pages: 325
Genre: Fiction, Crime Thriller
Type : Paperback
"You are in real, real danger."

A school teacher gets a creepy warning in his mailbox. Seven days later, he murders eleven of his students. Two months later, he is gunned down in broad daylight by an obscure militant outfit. Justice served. The nation pacified. Case closed.

But not for two crime reporters. Seeking redemption through this case are Prakash and Seema, ace journalists but broken individuals. As they follow the story, they are led to the ominous wilds of Bandhavgarh where an eerily similar massacre had occurred eight years ago. Little do they know that they have stirred up a hornet's nest.

One by one their leads start turning up in body bags and they are chased by assassins at every corner. Soon they realize that they are pitted against evil powers pervading the business and political DNA of the country, with an unbelievably sinister agenda. People who are about to let Prakash and Seema know how brutal they can be.

Always one step ahead of them, there is no place to hide. The only way is to fight back. But, to do that, Prakash and Seema will first have to survive.
When I read the blurb for this book, I knew I had to read more. I'm a huge fan of thrillers and I love writers who can really pull the reader in the story and hold their attention throughout the book. For a first time author, Uday Satpathy, has been successful in doing just that. I was totally engrossed in the world the author created right from the word go.
The author painted an exciting and a believable picture. As the story progressed, I was engulfed in the mysterious, dramatic and suspenseful investigations along with Prakash and Seema. Though there are multiple sub-plots, but all are nicely linked to give a narrative that is crisp and tight.  There's a deadly assassin who wants to retire after his current and last assignment. There is a doctor who is on a mission that would destroy humanity. A Foreman in a local sugar mill joins hand with the evil forces to create a phoney Jihadi organization. A business family's scion has dangerous and over ambitious plans. All these subplots integrate well with the main plot and advance the story at a satisfying pace.
The characters are real. Both Prakash and Seema have their own horrors and demons to tame. Both of them follow different aspects of the same investigation hitherto unknown to each other. Both are committed to their jobs and risk their lives as they follow the clues, connect the dots in a chase across various cities of the country, revealing the various tiers of organised crime and deranged obsessiveness of the human mind. Even the lethal and efficient sniper, Raman appears human.  Brutal successfully captures the various moods in the story viz menace, fear, helplessness, humour, pathos and triumph.
The book is divided into three parts and the first part is absolutely racy and keeps you at the edge of your seat. It's the second and the third part that were a bit of a dampener for me. In the second part nearly everything is revealed and that made the third part totally redundant. I mean, in the third part there were no surprises in the end, no frantically turning of pages and no feeling of 'unable to wait to discover how everything unfolds'!!
There is no denying that the book is well written and I liked the research that must have gone into writing an interesting book like this.
Brutal is a must read that will certainly chill and thrill you!
Rating : [usr 3.75 text="false" size=20]