Take 2
Title: Take 2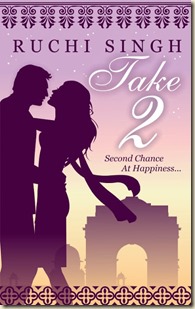 Author: Ruchi Singh
ASIN: B00TLHD2SK
Number of Pages: 202(Estimated)
Price [INR] : 99 (Kindle Edition)
Genre: Fiction, Contemporary Romance
Type : eBook
Priya's idyllic world turns upside down when she realizes her husband considers her dead weight after stripping her off her inheritance for his ambitions and lavish lifestyle.

Instantly attracted to Priya, Abhimanyu knows getting involved with a married woman is inviting trouble. But despite common sense, cautions and hesitations, he is drawn to help her.

Happily ever after has become a myth for Priya and trying to keep the relationship platonic is becoming more and more difficult for Abhimanyu.

In the tussle between ethics, fears and desires… will Priya embrace a second chance at happiness?
I started reading Ruchi's blog during the last April's A to Z Challenge where she wrote Flash Fiction based on life's philosophy or mood or emotions, interpreted using colours.  And was I impressed? Every day of the week, I actually looked forward to read her stories. Yes, they were that amazing! When I got an opportunity to read and review her debut novel, I grabbed it immediately.
I started reading Take 2, one dull afternoon and finished reading it in a span of few hours. Yes, I read Take 2 at one go! Speaks a lot about the book, isn't it!
Take 2 is a tender story about love lost and love redeemed. The story opens in the midst of a heart-breaking betrayal. Priya's two year old marriage breaks when her husband announces the D word over the phone. As Priya goes through an emotional roller-coaster ride, her friends form a big support system for her. Abhimanyu … Aah! Abhimanyu…swoon…he is a perfect male character. He is successful, strong willed, compassionate, loving, and patient. As a knight without the shining armour, he helps Priya to come out of her failed marriage but ends up falling in love with her. Their respective value systems come in the way of their desires and they choose to look the other way. The story is also about true friends and how they help and support during tough times.
From the very beginning of the story, it feels like you are growing up with the characters together, getting to know them and going through their ups and downs. Needless to say that the characterization is vivid and realistic.
I loved the camaraderie between the friends. The conversations between them are laced with wit and humour and sound so very natural. Along with romance, the story has lots of drama, suspense, action and even a villain. All these elements are woven in the story so well that it sucks you in right from the start. Ruchi's writing in Take 2 is beautiful and flows effortlessly.
Although the majority of this story had a melancholy tone, yes, that's because Priya had quite a lot of tears in her eyes (counting the unshed too) all throughout the book,  Take 2 has a beautiful message of moving on in life, redemption, and second chance at love and happiness.  It suggests that when life gives you a second chance, all you have to do is close your eyes and step into it.
Take 2 is a a well-written story of young love and second chances. So go on and read this interesting and compelling romance.
Rating : [usr 4 text="false" size=20]