360 Security Lite App Review
If I were to list the things that I hate about my Android phone… well, its battery life dropping faster than the candies in the Candy Crush would top the list. This would be closely followed by apps like Facebook, which has to be checked like every 15 seconds; Instagram, where pics have to posted like there's no tomorrow; Twitter, where the action cannot be missed for even a minute and Kindle app, well to keep you sane. These apps drain the performance of my phone at a lightening speed. And when the phone battery is reduced to a sliver of red on the screen or when it would leave behind a lazy snail in performance, gritting teeth and pulling hair become a permanent routine.
And then I found 360 Security Lite. It is a mobile antivirus and performance application for Android users. It is available for free download on Google Playstore. It downloads quickly and takes up only 4 MB space.
360 Security Lite is all-in-one Android optimizer that Boosts speed, Cleans junk and has an antivirus too, So, it optimizes the background apps, manages the memory space, cleans junk(cache) files and extends the phone battery life, while keeping the device safe from virus and Trojans.
In the screenshot above, 34 apps (OMG!!) were consuming memory and 6 apps were draining battery. When I clicked the BOOST option…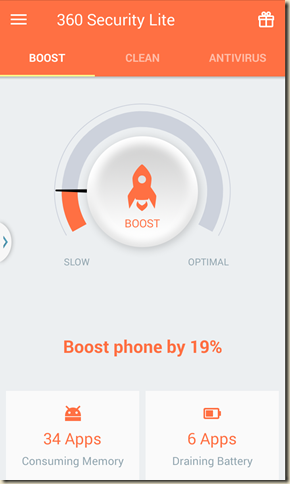 The result…. Cool, isn't it?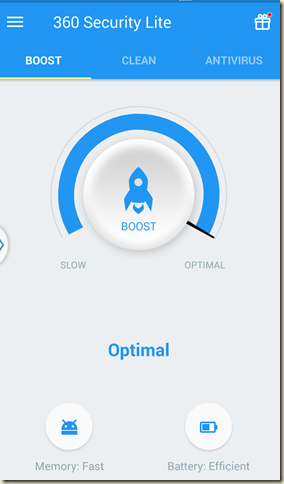 The CLEAN option scanned the phone and removed junk files in a jiffy!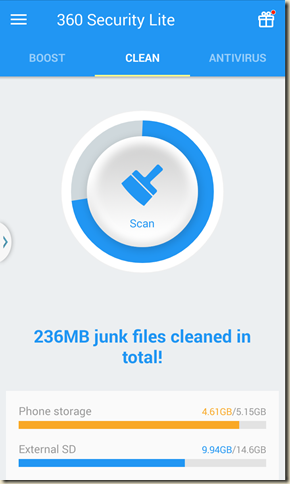 The ANTIVIRUS option…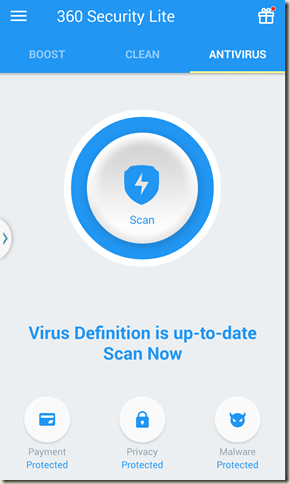 … scans for Malware and Vulnerabilities…
And pronounces the phone…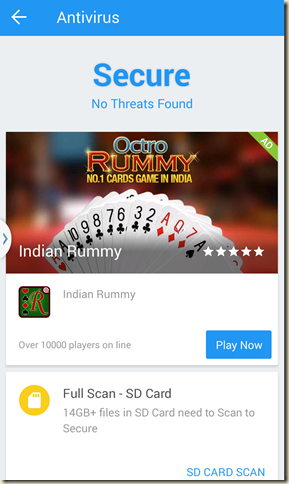 The SETTINGS can be changed as per one's needs.
What I really liked about 360 Security Lite is that with just one tap/click, I could Boost, Clean and Protect my phone and this really helped in conserving battery life and enhancing its performance too.
If you have an android phone/tablet which runs on Less than 1 GB of RAM, then 360 Security Lite is a must-have app.
"I am reviewing the 360 Degree Security Lite App for the #MadeForIndia activity at BlogAdda."