The Other End of the Corridor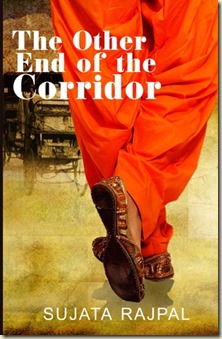 Title: The Other End of the Corridor
Author: Sujata Rajpal
Publisher: Mahaveer Publishers
ISBN: 9789350881019
Number of Pages: 240
Price [INR] : 100
Genre: Contemporary Fiction
When your dreams are tainted with lies and deceit, you have no other choice but to walk to the other end of the corridor
Leela has nothing extraordinary about her except the dream to become famous. Her desires take wings when she gets married to a handsome boy from a respectable family in Delhi. But her dreams are shattered even before they have a chance to take flight.

She happens to meet two friends from a long forgotten past, which infuses hope and opens new avenues to realize her dormant aspirations. Leela delves into previously unexplored paths of deception and forbidden passions that only make her stronger.

In an attempt to rediscover herself, she falls in love with life and with herself but her life takes a sudden turn again… No matter what, Leela will continue to chase her dreams.

Where does this journey take her?
The Other End of the Corridor is coming of age story of a young girl, Leela who has had it tough right from her birth. She is condemned as an inauspicious child, the one who'd bring misery and doom to those around her. Unloved by her own family, she is married at 19. She dreams of leaving all that behind and thinks of starting a happy and a meaningful life ahead. But reality strikes and she finds herself abused physically and mentally by her depressive and manic husband and control freak mother-in-law. And her dream to make it big in life vanishes into thin air.
Leela's story is the one that we read and see commonly around us. Her struggles and challenges highlights the existence that a large number of women go through in our society. Leela's story is one of survival, despite the odds being heavily stacked against her. The author has captured Leela's pains and woes with such honesty and emotion that I could feel for her.
The characters are real and have their failings and shortcomings, which makes the story all the more believable. The language used is simple and the story flows effortlessly thereby engaging the reader in you completely. The book title and cover are appealing and truly reflect the content and mood of the story.
The Other End of the Corridor is Leela's redeeming and journey of self discovery, her development from a naive girl to a woman who goes on to live her dream, is well crafted. As I said earlier, Leela's story is something that we all are familiar with and actually there is no newness in the book. But such stories need to be read and encouraged because these bring to the fore the oppression of the women and their sufferings while being subjected to domestic violence. Such books may help to change the prevailing mind sets and break the social stigma attached to these abusive relationships.
So go on and check out Leela's journey as she moves to The Other End of the Corridor.
This Tour is Hosted by
Facebook | Website | Blog Tours | Twitter | | Linkedin