Overwhelmed by Love
Loved. Touched. Supported. Gratitude. These are some of the feelings and thoughts that are running through my mind. What did I do to deserve all this? May be something right?!?
I ranted about my inability to write and my friends came all out to encourage and support. That I am overwhelmed by the love and support I have received from all of you, is putting it mildly.  I don't know where I would be without it.  You, my friends have lifted me up again from the depths of despair and anguish and inspired me. Thank you all so much for the love, understanding, support, caring and friendship you all have given me.  I love and cherish you all so much and I don't think I could ever tell you all that enough.  Thank you for being here for me.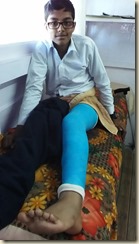 And thank you from the bottom of my heart for your kind words and wishes for Aaryan. means a lot to me. Inshallah, with your prayers and wishes he will be up and running real soon. Here's his picture taken by the nurse in the school infirmary.
As promised, I am writing this post from my hotel room and I have given myself 10 minutes to write this post. Tomorrow is a big day at work and I am dog tired after travel and all the preparations.
Talking about travel. I had an early morning flight and was ready an hour before the cab's scheduled arrival time. As expected, I went about checking my bag (not my wallet, though), making lists mentally, cleaning and dusting the house. KG told me to leave all that and sit and relax.  But did I listen? No!!  Yes, I am mad that ways.  The cab arrived on time and I left for the airport. As soon as I opened my wallet to pay, I saw that my ID cards were missing. I wouldn't be allowed to even enter the airport without it.  I had a mild panic attack as I realized that I had given the two ID cards to KG for some work a few days ago and never took them back. I called him. He was certainly not happy about leaving his early morning TV watching routine and after some cribbing and whining, he drove 20 kms to hand over my ID cards. And was I touched?
And just the evening earlier, 7.30 pm to be precise, I realized that the Dhobhi had not delivered the clothes I had given him for ironing. The lot had my 2 jeans and I  NEEDED them for my trip. (The Dhobhi could not home deliver them because of  amavasya which is his monthly off day).  So, I call KG who was at work then and made him go house hunting of our Dhobhi in some narrow lanes in an unknown area. Not an exciting thing to do, I know. But he did it.  And these two incidents made me realize that what a blessing it is to have a partner who is so supportive and understanding. And especially when I am pretty capable of testing his patience to the limit, but he has put up with me through thick and thin….and with a smile and just a dash of cribbing!!
Today, I'd like to thank you, KG and all my blog buddies… Shailaja, Sheethal, Cathy, Tulika, Parul, Roshni, Jayashree, LuAnn, Mithila, Geetika, Genevive, Asha, Nabanita, Madhusmita… truly overwhelmed by your love and support! Thank you for being there for me!! ♥