Hell to Pay
Title: Hell to Pay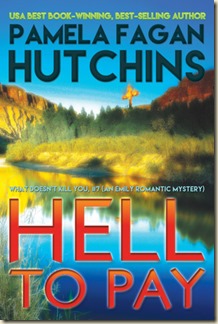 Author: Pamela Fagan Hutchins
Publisher: SkipJack Publishing
ASIN: B019UHL0NY
Number of Pages: 383
Price [INR]: 291
Genre: Romantic Mystery
Big-haired paralegal and former rodeo queen Emily has her life back on track. Her adoption of Betsy seems like a done deal, her parents have reunited, and she's engaged to her sexy boss Jack.

Then client Phil Escalante's childhood buddy Dennis drops dead, face first into a penis cake at the adult novelty store Phil owns with his fiancée Nadine, one of Emily's best friends. The cops charge Phil with murder right on the heels of his acquittal in a trial for burglarizing the Mighty is His Word church offices.

Emily's nemesis ADA Melinda Stafford claims a witness overheard Phil fighting with Dennis over a woman. Before he can mount a defense, Phil falls into a diabetic coma, leaving Nadine shaken and terrified. Meanwhile Betsy's ultra-religious foster parents apply to adopt her, and Jack starts acting weird and evasive. Emily feels like a calf out of a chute, pulled between the ropes of the header and the heeler, as she fights to help Phil and Nadine without losing Betsy and Jack.
Hell to Pay is the What Doesn't Kill You #7: An Emily Romantic Mystery. This is the first book in the series that I read from the author. I had some inhibitions initially about picking a book which is seventh in the series. I thought that it would be difficult to comprehend what's going on, but it just takes a couple of chapters and I was sucked in the world of Emily and Jack. Hell to Pay reads like a breeze as a standalone book, but I am keen to read the earlier books in this series now.
Hell to Pay has it all, right from a murder and adoption, to rattlesnakes and fanatic religious group, to a bit of romance and lots of drama. It has a healthy dose of suspense, exciting characters, intriguing plot and a lot of action and adventure too. And all these essential elements in a murder mystery like this one, kept me intrigued and interested.
The suspense in Hell to Pay gave the story dimensions and layers and made it so very exciting. When the protagonists are in a crazy situation and are locked in the church retreat of the Mighty is His Word, it was one thrilling ride. I worried for Emily and Jack and kept wondering what would happen next and how they would get out alive. And when a reader is as connected with the characters and story like this, I think this is what makes for a good mystery and speaks a lot about the writing skills of the author.
A dash of humour is added by Emily in the story. Her observations of things around her and her curses made for some fun and hilarious read. This gave a welcome relief to the suspense, dramatic conflict and puzzling murder mystery in the story. The romance in the story was a bit lacklustre and was one sided. Since, it's a Romantic Mystery, a bit of action packed sizzling romance would have added to the zing of the story.
Pamela has created a gripping story by weaving vivid descriptions with thrilling threads of secrets, greed, deceit and intrigue. The pacing is fast and that engulfed me in the world of drama and intrigue and in the lives of Emily and Jack.
Exciting and Entertaining from start to finish, that sums up Hell to Pay. Definitely an edge of your seat read. Pick it up as soon as possible. You will enjoy the ride.

Facebook | Website | Blog Tours | Twitter | Pinterest | Linkedin