Ten to One of My Life
Saw this interesting tag at Roshan's blog and I knew, I had to do it for two reasons.
A- Because such posts are super fun, easy and can be done in a jiffy.
B. Because they make you introspect, think and reflect on a few things and they make you travel down the memory lane too.
So, here I am with Ten to One of My Life…
TEN HOW'S!
How did you get one of your scars? From a snake bite on my toe when I was six years old. Oh, it was a non-poisonous snake.
How did you celebrate your last birthday? With KG and Aaryan.
How are you feeling at this moment? Relaxed after a long day at work.
How did your night go last? Pretty uneventful!
How did you do in high school? Pretty good.
How did you get the shirt you are wearing? Bought it from the End of Season Sale at Pantaloons. Incidentally, the top I picked was not on Sale!
How often do you see your best friends? Not too often. Though we chat and talk over phone frequently.
How much money did you spend last month? Quite a lot, actually. I must truly not get lured by the word 'Sale'.
How old do you want to be when you get married? This is not applicable to me for I have said, "I Do" some two decades ago!
How old will you be at your next birthday? Another year older with more greys and perhaps more wisdom!
9 WHAT'S!
Your mother's name? The first person to like my blog posts on Facebook is my mom. So, go on and check out her name from there!
What did you do last weekend? Went to Shirdi all by myself. Had a no workshop day, so made use of it by visiting Sai Baba temple at Shirdi. A long pending trip!
What is the most important part of your life? To feel at peace with myself.
What would you rather be doing? Being home with KG and Aaryan.
What did you last cry over? Today morning, when I tried calling KG and he didn't respond to my phone calls. Panic stricken, I called our guard at the apartment to check on him. Repeated knocks on the door and ringing of the door bell didn't elicit any response from KG and that gave me a massive panic attack which resulted in a lot of tears.
When I finally spoke to him a few minutes later, I wept with relief. And when he scolded me for creating a panic all around and apologized for not taking his phone to the loo, I shed some more tears of gladness.
What always makes you feel better when you're upset? Prayers and Reiki.
What's the most important thing you look for in a significant other? Sense of humor, integrity and openness.
What did you have for breakfast? Idli-Sambhar, Upma, some fruits and a piece of cake. And all this in flat 5 minutes because I had to prepare for the workshop ahead. Didn't do justice to the lavish breakfast spread at Jaypee Greens Golf and Spa Resort, at all.
8 YOU'S!
Have you ever liked someone who had a girlfriend/boyfriend? Yes
Have you ever had your heart broken? Yes. Many times.
Have you ever been out of the country? Yes.
Have you ever done something outrageously dumb? Yes. Many times. I think I excel in this field.
Have you ever been back-stabbed by a friend? Yes. Quite a few times.
Have you ever had sex on the beach? Yes, just the cocktail.
Have you ever read an entire book in a day? Oh, many many times. In fact, I love finishing books in a day.
7 WHO'S!
Who was the last person you saw? My colleagues. No, the attendant at the resort who came to handover the laundry.
Who was the last person you texted? My friend.
Who was the last person you hung out with? My colleagues.
Who was the last person to call you? KG, as we exchanged the happenings of our day among other things.
Who did you last hug? A social hug to a client whom I was meeting after a year! Gosh! I am missing a big warm hug!
Who is the last person who texted you? The same friend to whom I texted the last!
Who is the last person you said, "I Love You" to? KG and that was yesterday! That's another story that I texted "I hate you" to him in the morning for scaring the living daylights out of me!
6 WHERE'S!
Where do your best friends live? In my heart. Sounds too cheesy, but that's so very true.
Where did you last go? Went for dinner and to watch a Live Band in the resort organised by the client for their employees. The singers enthralled us with beautiful songs from the 80s and the 90s. They had just moved to singing the songs from the newer movies and I made a hasty retreat, for I had to complete this post and sleep early, coz tomorrow is yet another hectic day at the workshop.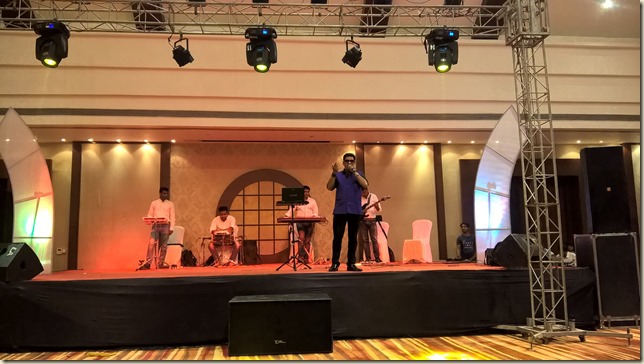 Where did you last hang out? In the Royal Ball Room of the Jaypee Greens with live band and colleagues and some 170 training participants.
Where did you go to school? Sophia School, Kota.
Where is your favorite place to be? Home
Where did you sleep last night? In the super luxurious room and a very soft bed at Jaypee Greens.
5 DO'S!
Do you think anyone likes you? I think at least a few.
Do you ever wish you were someone else? No. I am happy in my own skin.
Do you know the muffin man? Nope
Does the future scare you? Yes.
Do your parents know about your blog? Yes. And my mom is usually the first one to like my blog post on Facebook.
4 WHY'S!
Why are you best friends with your best friend? For the bond of non-judgemental companionship, trust and love that we share.
Why did you get into blogging? To express and explore my creative side.
Why did your parents give you the name you have? I was named by an aunt. My father wanted to call me Sanjana though.
Why are you doing this survey? Such posts make you reflect and ponder on things you would not usually do.
3 IFS!
If you could have one super power what could it be? To go back in time and change a few things.
If you could go back in one time and change one thing, would you? Yes, definitely!
If you were stranded on a deserted island and could bring one thing, what would you bring? Books.
2 WOULD YOU EVER?
Would you ever get back together if one of your ex's ever asked you? No, because we would have parted ways for a reason.
Would you ever shave your head to save someone you love? Yes, without a second thought.
1 LAST QUESTION!
Are you happy with your life right now? If I were to rank my happiness on a scale of 1-10 with 10 being perfect, I would rate my happy state at 8. Life's better than before, certainly and for which I am truly grateful. There are a few insecurities and some stressful things, but that's part and parcel of life and I am ok with that!
Linking this to WriteTribe's #writingwednesdays