Destiny Decides
Title: Destiny Decides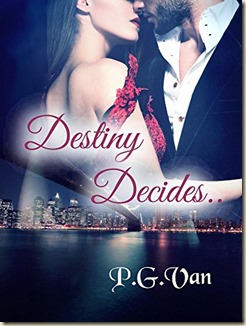 Author: P.G. Van
ASIN: B0162HL6V6
Number of Pages: 390
Price [INR]: 147 (Kindle)
Genre: Contemporary Romance
Almost a decade of pain pent up inside her, Sameera manages to lead a simple life with her older sister as her roommate. She wonders if she would have lasting happiness in her life as every time she finds happiness it is yanked away from her before she realizes it.
Nick was her best friend in high school and is now back in her life after all these years and it is very clear that he wants more than just friendship. He expresses his need for her very early on shaking up Sameera's quiet world.

Will Sameera learn to stop bracing herself for the next big tragedy and learn to accept that she was destined to meet Nick?

Is Nick the pillar of strength for Sameera to work through her challenges and internal conflicts?

Can she trust the guy she had known many years ago? Nick is not a high school kid anymore; He is a successful businessman that leads a life of extreme luxuries. Nick seemed to know everything about her? How? She steps out of her comfort zone for Nick but can she hang on to him. Is Nick the guy that she was destined to meet or is he going to cause her another heart break?

Take Sameera's journey in this passionate love story as she discovers the meaning of true love and realizes the power of destiny.
Every now and then, I like to indulge in reading romance novels. Yes, I enjoy them as a guilty pleasure from time to time. When I read the blurb of Destiny Decides, I was quick to pick it up.
Destiny Decides is a blend of romance, love, friendship, family and a bit of suspense. It is sweet and romantic, hot and sizzling too. It's about best friends in school who part ways due to life and its circumstances and reunite again as soul mates years later.
The story is simple and moves effortlessly and held my interest for most of the time. The writing style of the author is good and shows a lot of promise. Reading Nick's dialogues, reminded me of an old friend and that brought a smile every time! So thank you, PG Van for some smiles. I liked the camaraderie shared between two sisters and their relationship with their parents.
What did not work for me… Towards the middle of the novel, the story dragged on a bit. Perhaps that was because I kept wishing for more story development that kept getting overshadowed by an overdose of sex scenes.
I guess, the book is written with international audience in mind, for the basic and simple Indian traditions are explained in details. In the book, father's mother is referred as 'Nani' when she should be called 'Dadi'. (My mom and my grandma were still best friends in spite of the fact that the man who was the reason for their relation was no longer around)
Destiny Decides is the first book in The Pure Destiny Series. So the story in Destiny Decides rightfully ends on a mysterious note which may be elaborated in the second installment of the series.
Check out Destiny Decides if you are looking for a sizzling romance.

Facebook | Website | Blog Tours | Twitter | Pinterest | Linkedin