Rightfully Wrong, Wrongfully Right
Title: Rightfully Wrong Wrongfully Right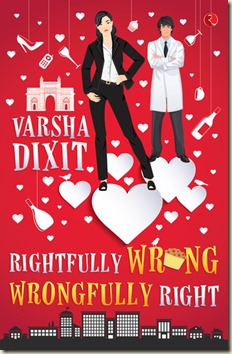 Author: Varsha Dixit
Publisher: Rupa Publications
ISBN: 978-81-291-4197-2
Number of Pages: 262
Price [INR] : 195
Genre: Fiction
Gayatri, a rich, spoiled diva, is fighting to establish herself even as her tyrant father pushes her into a life not of her choice. Viraj is a genius and a con who shuns society and its hypocrisies.

Gayatri sees Viraj only as a means to an end. For Viraj, Gayatri is the epitome of all that he despises. So when their paths cross, it is a battle of feisty wills and desire.

From the best-selling author of Right Fit Wrong Shoe and Wrong Means Right End comes Rightfully Wrong Wrongfully Right. All the unforgettable characters of the earlier two bestsellers make a comeback in this unforgettable story of hurt, hearts and hope

Will Gayatri and Viraj prove to be each other's salvation or annihilation? This is a tumultuous journey of two Wrongs who might just make everything Right!
I have read Varsha's earlier book Only Wheat Not White last year and quite liked her writing style. So, without a second thought, I picked her latest book Rightfully Wrong, Wrongfully Right. It pulled me in right from the first chapter and I finished reading it one evening during a train journey.
If you are looking for perfect hero or heroine – you will not find them in this book. Both Gayatri and Viraj have very evident character faults, but as the story progresses, one gets a glimpse of their real personalities. They are absolutely two different individuals from different backgrounds who meet and start off on a wrong foot. The build up between Gayatri and Viraj is by no means rushed and it adds to the intensity of the book! I kept turning the pages in anticipation of 'Will they? Won't they? But how?'
I loved the banter between Sneha and Nandini, it was laugh out loud in so many places. Although it was a bit over the top at times. Yes, even the secondary characters in the book have a prominent role in the story.
The story's fast pace and well-developed characters make this book a fun and easy read. The titles of the chapters are interesting and apt viz The Crazy mad Scientist, Desperado, Country Wants to Know, Pimp I am, I am Dismissed to name a few.
Towards the end, when one is keen to know 'How they are getting back together?', the spotlight is on the life stories of secondary characters and that was mildly annoying.
Though the characters of this book were part of Varsha's earlier two books Right Fit Wrong Shoe and Wrong Means Right End , which I have not read, Rightfully Wrong, Wrongfully Right works perfectly well as a standalone novel.
As I read the last sentence, I had a goofy smile on my face and let out a little sigh of satisfied pleasure.
Rightfully Wrong, Wrongfully Right is a light, fun, breezy and romantic read to dip your feet into. Go on and pick it up!

Facebook | Website | Blog Tours | Twitter | Pinterest | Linkedin