Tales of Sunshine
Title: Tales of Sunshine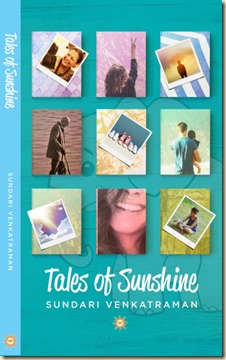 Author: Sundari Venkatraman
Publisher: Flaming Sun
ASIN: B01GSHVTTY
Number of Pages: 83
Price [INR]: 100 (Kindle)
Genre: Fiction
Tales of Sunshine is Sundari's seventh book. Must say that she is on a roll!
Tales of Sunshine is an anthology of ten short stories that bring hope.
A Ray of Sunshine is about young Raj who's terribly upset when he is asked to give the pink slip to twelve people from his team. These people were hardworking and he had personally selected and trained them. Will he be able to do anything about it?
A Promise Given is about friendship of Sachin, a rich, young man on his way to recovery from drug addiction and a pregnant child-woman Aparna.
Life Goes out of Control is the story where Preeti, an only child, whose parents want her to opt for subjects of their choice rather than her interest.
Rakesh Nath's Recovery is an intriguing story of Rakesh Nath who has worked all his life to become rich and then to suffer a massive heart attack at 57.
Exam Fever is about Renu and her anxious mother, Maya. Maya is terribly worried about her daughter's exams while Renu has no interest in the same. The story ends with a twist and leaves you smiling.
Until Death Us do Part is a story of Rekha, the 35-year-old COO of an MNC who has it all in life except for love. And when she finds it, it changes her life completely.
Is Grandpa Home? Ansh became a bone of contention between his mother Anu and grand father. Anu makes sure that Ansh does not spends time with his grandfather. Is she successful in keeping the duo apart from each other?
Daydreaming Mercenary is a story of two sisters Reema and Rita. Reema blows up her sister's hard-earned money. But are things what they actually seem?
Breaking Free from the Mould is Aarush's story. He has it all planned as far his career is concerned. His grandmother wants him to follow the footsteps of her son. With so much pressure from his Grandma, will Aarush pursue his calling?
The Elephant in the Room is the about 'friendship' that spans decades between the rich Shruti and poor Nandita.
All these 10 stories are a slice of life. We have seen, heard or experienced all of them at one point or the other. The protagonist in each story faces some challenging times or is in some desperate situation. And like in real life, sooner or later, they find a glimmer of hope and a promise of a better tomorrow. The stories leave you with that heart-warming and feel-good feeling and thus making them truly tales of sunshine. Each story examines some important aspect of the human condition leaving the reader with plenty to contemplate and relate to.
Though these are short stories, Sundari is deft in her ability to bring her characters and their circumstances to life with ease.
Written in a simple and succinct style, Tales of Sunshine make for a quick breezy read.