Kaleidoscope of Hopes
Title: Kaleidoscope of Hopes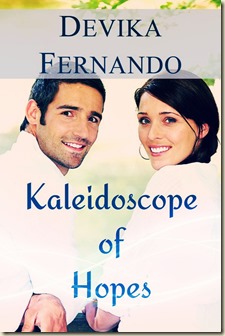 Author: Devika Fernando
ASIN: B00P0BL7K6
Number of Pages: 289
Price [INR]: 231 (Kindle)
Genre: Contemporary Romance
Nadia's life story reads like Cinderella the backward way, going not from rags to riches but from riches to rags. Her life is a mess. She has to go through a lot of hurt and pain and is struggling to make ends meet. To add to her woes, a new boss arrives at work who is sharp as a knife and handsome as hell. Lucas is strict at work and to lead the company to success, he is prepared to let heads roll. Nadia is worried about being handed the pink slip.
To complicate her situation further, Nadia finds that Lucas is her next door neighbour. Lucas has a 5-year old daughter, Melody. When he finds that Melody and Nadia are getting along well, he proposes a business arrangement. He suggests that Nadia should become Melody's companion. Since Nadia is desperate for money, she agrees to his proposition.
In this whole bargain, they didn't realize that close proximity at work and home would change the equation between them. Sweet hopes bloom again, but both are burdened by their sad past. Should they both give a second chance at love?
When I See Your Face was the first book that I had read written by Devika and I quite liked it. When I got the opportunity to read Kaleidoscope of Hopes written by her, I grabbed it with both hands. Oh boy! Reading Kaleidoscope of Hopes was one hell of an exciting, exhilarating and emotional rollercoaster ride.
Devika brings her characters to life with vivid descriptions, and believable dialogues and situations. Both Nadia and Lucas came across as realistic for the most part. The story is filled with moments where they keep getting thrown together and are put into situations that force their feelings for each other to the surface. Despite their attraction for each other, both have good reasons for refusing to acknowledge it… their past and emotion charged issues among other things. I really enjoyed the chemistry and slow burn romance between them and was completely sucked in and rooting for them.
For most part of the story, I was wondering about their past which kept coming in their present. Devika was successful in keeping the reader in me engaged and interested as the mystery of their past was revealed gradually. The storyline has a bit of a twist at the end to heighten the action and suspense.
Kaleidoscope of Hopes is a beautiful feel-good romance that you'll love curling up with. Go for it.