The Not People
Title: The Not People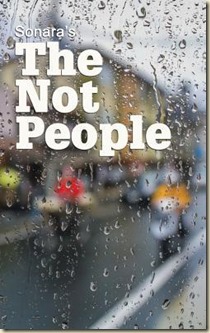 Author: Sonara
Publisher: Leadstart Publishing Pvt Ltd
ISBN: 978-93-52016-01-3
Number of Pages: 258
Price: 250 [INR]
Genre: Fiction
'The Not People' is an odyssey of faith, a plunge of deep belief into the heart of the ones who have ever dared to love unconditionally. When Parineeta decides to call it quits, her relationship with beau Atharv, with whom she had voyaged through unnumbered experiences in an ordinary life, she was sure as hell about never wanting to see him ever again, even if that meant smothering her core voice that screamed out to love and endure.

Winds of change begin gushing only after a protracted length of time; almost close to a decade since their separation. She is now not so youthful anymore and Atharv's status is unknown to her. Will she give in to her heart's calling and set out to seek her only love? Would her intentions be bestowed by blessings from above? Will it ever rain again, as it had when she had returned once, to meet her dying mother? Are Parineeta and Atharv really, just ordinary people or Not…?
I read a lot of books and once in a while I come across books that are just difficult to get through. The reasons could be many, including the slow or predictable story or flowery language or poor grammar or weird word choices or it's plain boring …
The Not People was one such book that I struggled to read. The book failed to capture my attention from the word go. It could be just me, but the complex language of the book simply overwhelmed me. It was hard as hell, and sometimes I forgot the plot even while I was reading.
I read for pleasure (among other things), but if it becomes arduous and takes a lot more effort and in this case looking up a dictionary after every other line, then it's not my cup of tea. On second thoughts, if I had read the Kindle edition of this book, it would had been better, but still that would have broken the continuity and joy of reading.
Because I do not prefer to leave a book unread half way no matter how difficult it might be, I finished reading the book.
The No People is Parineeta's story who visits her ailing mother with Atharv, her live-in partner. It's an emotionally challenging time for Parineeta and Atharv supports and help her cope with the tragedy. Before moving to their new home in Ooty, they travel to a lot of places and reflect on their childhood memories. As they settle in their new home, tsunami hits Southern India and their Man Friday is affected by it. The duo set out to help the victims and their families. A small incident makes Parineeta leave Atharv. She moves into an ashram where she meets Rudra and Dhrishya. The story jumps a few years ahead and the Guruma at the ashram asks Parineeta to get back to her life with Atharv. 8 years later, she meets Atharv and "neither questioned each other about anything else. They just knew."
What I liked about this book is their travel to places like Jaipur, Udaipur Surat… I enjoyed the sights, the places, the food which were so realistically presented. Even the shops at the midway, Behror on the Delhi-Jaipur highway has been described precisely the way they are. Thumbs up for that.
What didn't work for me, other than the Gordian language that is… The part of the story till tsunami is covered till chapter 8 (The book has 10 chapters in all!). And it is only in the last 2 chapters that the duo separate and meet. Interestingly, the blurb of the book talks about only these two last chapters. The pace of the book is excruciatingly slow. There are many dialogues in Hindi and Tamil which are immediately translated in English. Somehow that hampered the flow of reading especially while reading the Hindi dialogues. Also the conversations between the characters is pretty unrealistic.
The book leaves a lot of things unsaid and had a lot of things that made no sense at all.
To sum it up, I am afraid, The No People did not work for me!