Sick of Being Healthy
Title: Sick of Being Healthy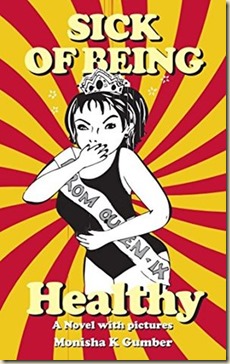 Author: Monisha K Gumber
Publisher: Leadstart Publishing Pvt Ltd
ISBN: 978-93-52017-23-2
Number of Pages: 160
Price [INR] : 225
Genre: Fiction
Sick of Being Healthy is a contemporary YA novel about a teenager, Tara who is not too happy about her chubby looks. She believes that if she was skinnier, she'd be happier – not just with her body but with her life in general. She is desperate to get the guy of her dreams, and in that process gets into trouble that not only cost her friendships, her peace of mind but even her life!
I picked this book after reading the blurb but when I saw the book with illustrations on almost every page, I wasn't sure whether this book would be my thing. The book reminded me of Gerenimo Stilton (which has coloured illustrations) and Diary of a Wimpy Kid series (with black and white illustrations ) which my son read till a year ago. And I was so wrong. I mean just because I am no longer a kid or a teen, it does not mean that I don't like pictures anymore!!
The story is written in an effortlessly engaging style and brings to light the issues and troubles faced by the teens. The book talks about parental pressure to get perfect grades, one sided love affairs, self esteem issues, body image issues, diets and weight loss, peer pressure, cyber affairs, sex education among other things. Since the book has first-person narrative, we get to know all of Tara's thoughts and feelings, troubles and issues from her perspective. And the author is spot on in capturing all that! The dynamics between the family members and that between friends is pretty realistic and that draws you completely in.
The illustrations and sketches are pretty neat and add to the fun quotient of the story! In fact these pictures and illustrations are an integral part of the novel.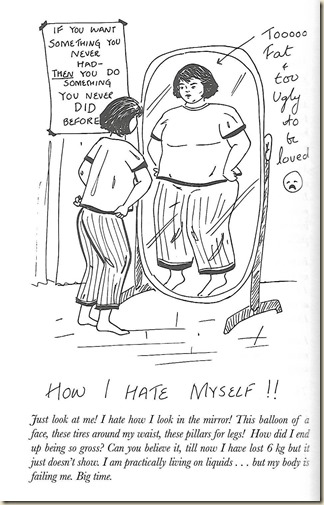 The language is simple and lucid throughout, and makes for smooth reading without proofreading errors.
Sick of Being Healthy is an interesting read dealing frankly with serious issues in a sensitive and a fun way. It's a short story which can be read not only by teenagers but their parents as well as it highlights issues without being over-bearing and preachy. Check it out!