Fighting for Tara
Title: Fighting for Tara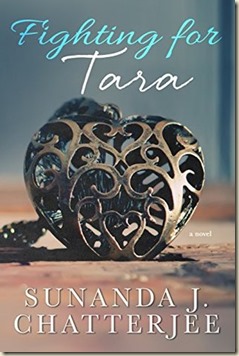 Author: Sunanda J. Chatterjee
ASIN: B01H9BS428
Number of Pages: 310
Price [INR]: 149 (Kindle)
Genre: Fiction
I had read great reviews about Fighting for Tara and that evoked my curiosity. And the cover sealed the deal for me. Yes, sometimes I judge a book by its cover.
Fighting for Tara sucked me in fast, and kept me interested right from page one! It's a story of a 13-year old child bride, Hansa and her daughter Tara. Hansa is left alone with her few months old daughter after the death of her old husband. Her brother-in-law wants to marry her and wants her to get rid of little Tara as he has no use for a baby girl. Instead of drowning her baby, Hansa escapes from her village with three-month-old Tara.
As Hansa runs from one place to another to save herself and her daughter, she meets danger at every step. The instinct to survive compels her to tell a lie and that lie changes her world. An American couple adopt not only little Tara but Hansa too and thus starts their new journey from a small village in Rajasthan to Pleasanton in America.
Life sails smoothly for Hansa for 7 years and then she finds herself Tara's life once more, this time in an American court, with a woman she calls 'Mother.' Will the lie upon which Hansa built her life, defeat its own purpose? How can she succeed when no one believes the truth? How far will a mother go to save her child?
Fighting for Tara is a story of grit and determination of a teenage girl who fights all odds. It's a story that explores the depth of love and motherhood, friendships and relationships, religious beliefs and practices.
Sunanda J. Chatterjee tells the story of Hansa and Tara with language and characters that break out of the page… very realistic and vivid. And she shares a story that explores the depth of love and motherhood, friendships and relationships, religious beliefs. The writing is clean, crisp, stunningly vivid and flooded me with a bucket load of emotion. There were moments when my heart was in my mouth and I was stricken with fear for Hansa and Tara. There are heart-breaking and sad moments as well as instances that warmed my heart.
I was not aware of the religious group called Jehovah Witnesses. Reading about their beliefs and practices was interesting. The court room scene was masterful, and on edge, it was a demonstration of courtroom drama at its finest.
While the initial chapters were pretty gripping, the story became a bit dramatic for my taste. But nevertheless, it kept me interested till the very end.
Fighting for Tara is a beautifully woven tale of love and relationships and also of hope and faith. I enjoyed the book and would recommend it.

Facebook | Website | Blog Tours | Twitter | Pinterest | Linkedin