If Were Having Coffee… 31st October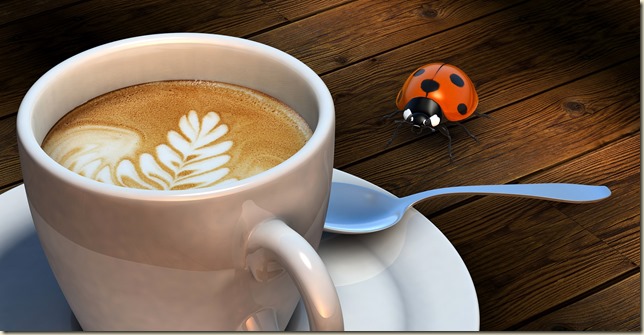 If were having coffee, I'd wish you a hello and thank you for stopping by for a cup of coffee and some conversations here.
If were having coffee, I'd tell you that today I woke up feeling, "Aah! I don't want to get out of bed and I don't want to do anything!" Actually, I had this feeling yesterday as well. Yesterday, I thought, that this was due to the weekend work trip. So, I spent the entire most of the day, relaxing and reading in bed. I thought I deserved the day off for I had worked hard the previous day and that too on a weekend. I had a good time catching up on my reading and generally lazing around. But at the end of the day, there was this little feeling that I didn't do anything meaningful.
If were having coffee, I'd tell you that his lack of motivation today morning despite all the rest yesterday bothered me. I ignored the long To-Do list which was staring at me and called up KG who is away for work. Among other things, I told him about this lack of motivation despite a hundred tasks looming large over my head. He coolly told me, 'there are always 2 roads in front of you but you can only take one road. Decide for yourself which road you want to take today, the one leading towards productivity with satisfaction at the end of the day or a lazy day with instant gratifications but disappointment at the end of the day.' And suddenly, it was clear to me about the road that I would be taking today.
If we were having coffee, I'd share that isn't it wonderful to find that talking to someone outside of the situation can help sort a lot of things which you are not able to do with self-talk. Thanks to KG's wise words, I ticked off a few things from my list and that included this post too.
If we were having coffee, I'd tell you that I will be completing my Instagram #RiotGrams challenge today. It was lovely looking for books for the various prompts and sharing everyday and of course connecting with hundreds of other book lovers and their books. I will be posting the third and final round-up of this month long challenge on my blog in a day or two. I hope you have seen the earlier 2 posts here and here.
If we were having coffee, I'd ask if you'd be interested in Fat Mum Slim's November Photo a Day Challenge? The prompts for the entire month are given in this picture below.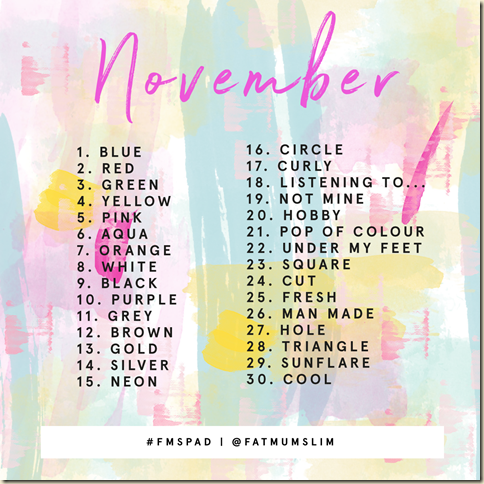 Playing along is really simple! Just look at the list each day and take a photo using the prompt as inspiration. So, for example, Day 1 is BLUE, so all you have to do is take a photo of something BLUE! You can do it on Instagram and Facebook and also on your own blog. You can check out all the details here.
I would love to do this November Photo a Day Challenge but only if I have company. So does this interest you? Let me know.
If we were having coffee, I would tell you that it's getting late as I have to catch up on the other items on my list. It's been good to chat with you and get this ramble off of my chest. Thank you for listening. Wishing you a wonderful week.
Until next time, take care of yourself.
Linking this to Day 9 of the Write Tribe Problogger October 2017 Blogging Challenge#writebravely #writetribeproblogger