He Provides Meals to the Poor for Re.1 #WATWB
At one time or another, most of us have had people from earlier generation tell us clichéd stories about how much they could buy for Rupee 1. Today, you can't really buy much of anything with Rupee 1 – except for the candies may be.
Though Rupee 1 coin is still around, but it seems to have lost its worth. So, when someone sells a full meal for Rupee 1, are you shocked or surprised or impressed? I guess, all!
Venkatraman from Erode, Tamil Nadu provides meals to the poor for a token amount of Re. 1. He offers around 70 meals every day including dishes like rice, curry, idlis and dosas through his self-run Sri AMV Homely Mess.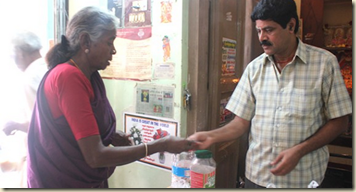 Venkatraman has been providing these meals since 2007 to the patients and their caregivers of the nearby Erode General Hospital.
It all started because of a single woman who unwittingly made Venkataraman aware of a very harsh reality.
"A lady came to my mess to purchase food for herself and her husband who was admitted in the nearby government hospital. She wanted to purchase idlis, which I sell six for Rs. 10. But they were unavailable that day so I asked her to take dosas instead," narrates Venkataraman, remembering the lady who became the starting point of his journey.
She refused to purchase dosas, because they were sold three for Rs. 10, and that would not be enough for her family. Touched by her dejected expression, Venkataraman gave her six dosas for the same amount.
But this wasn't the end of the story. The incident, which would have been easily forgotten by many restaurant owners, stayed with Venkataraman. He realized that some people were dependent on an amount as small as Rs. 10 for survival through the entire day. He knew he had to do something, to the best of his own ability.
Watch Venkataraman's awe-inspiring story here…
You may read more about him here.
Venkataraman shows us that you don't have to be rich to help someone. You can show compassion and kindness even if you are struggling yourself. And that ordinary people can do extraordinary things!
Giving back is as good for you as it is for those you are helping, because giving gives you purpose. When you have a purpose-driven life, you're a happier person — Goldie Hawn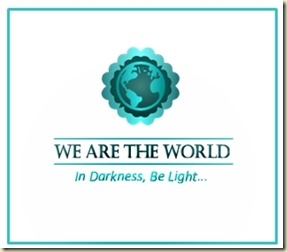 This post is part of the We Are the World Blogfest, a monthly event created by Damyanti Biswas and Belinda Witzenhausen to showcase stories of hope and light. This month I'm helping Belinda out as a co-host, along with extraordinary bloggers Guilie Castillo, Sylvia McGrath, and Mary Giese—please hop over to check out their WATWB posts as well as from other WATWB participants for a dose of feel-good to last you a whole month. You'll be happy you did 🙂
Click HERE to check out the intention and rules of the blogfest and feel free to sign up at any time. You are always welcome!
Linking this to Day 8 of the Write Tribe Problogger October 2017 Blogging Challenge#writebravely #writetribeproblogger