Why I said Yes to ActivKids Immuno Boosters
They say worry is second nature to mothers. With the ongoing winter season, this worry is at its peak. Like all mothers, I believe that I must protect my kid from the onslaught of the cold and its accompanying ailments and infections. This would result in me saying No to him for anything that had the potential to make him sick. But then the #YesMom challenge brought a bit of a change in me. As I started saying 'Yes' to my child more often, I also said Yes to ActivKids Immuno Boosters.
Why I said Yes to ActivKids Immuno Boosters, an immunity boosting supplement?
Research has shown that kids in India do not receive even 50% of RDA of key immunity nutrients. 75% of the Indian kids suffer from anemia and 67% from Vitamin A deficiency. In fact, 1 out of 3 kids suffer from upper respiratory tract infections. Also factors like pollution, improper diet and lack of physical exercise negatively affect a child's immunity. Frequent infections due to low immunity lead to long term impact on growth and development of kids.
I said Yes, to ActivKids Immuno Boosters because, it comes from the House of Cipla which is the most trusted and leading pharmaceutical company in the country.
What is ActivKids Immuno Boosters?
ActivKids Immuno Boosters is a unique nutritional supplement for kids that helps build their immunity. It is available in a tasty choco-bite format which gives upto 100% RDA (Recommended Dietary Allowance) of key Immunity Nutrients:
Vitamin A – Anti-infective vitamin
Vitamin C – Anti-immune stress vitamin
Vitamin B9 – Anti-cold vitamin
Iron – Anti-microbial mineral
7 essential nutrients like B1, B2, B3, B6, B12, D, Zinc
The nutrients present in ActivKids Immuno Boosters help build Immunity in the following ways: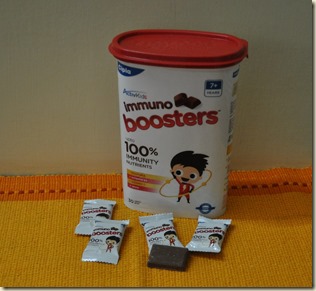 Provides immune strength to fight germs
Helps in blood formation
Helps in formation of immune cells
Protects body cells from damage
Strengthens skin's defense system
My son is having these bite-sized chocolate bites for the last 20 days. And we both are a happy mother-son duo. He is loving the taste and I am happy that he is having it without any prodding from me and that he has not had any cold/cough which he is highly susceptible to. The breakfast table fights over that glass of milk has also reduced.
However, I was worried about my kid's sugar intake, since he is having these choco-bites daily. However, to my surprise, I learned that each choco-bite contributes to less than 1% calorie from sugar of the total daily energy requirement and thus presents no risks of dental caries and high calorie intake.
I am glad that both my son and I have said Yes to ActivKids Immuno Boosters for it is fulfilling his nutritional requirements from an early age and keeping him fit and healthy. From my experience with this product and the benefits I have seen in my kids, I would strongly recommend it for you too. It is available here.
I am being a #YesMom with ActivKids Immuno Boosters. Will you be one too?
This post has been written in association with Cipla – ActivKids Immuno-Boosters. All the thoughts are honest and my own.