Preserving Heritage – The Norbulingka Institute in Dharamshala [Guest Post]
Hello Folks. Say Hi to my today's Guest Blogger Shalini Baisiwala from Shalzmojo. I had the pleasure of meeting her some time back and she comes across as a warm, confident and intelligent woman with inner strength. An interior designer by profession and a blogger by passion. Shalini blogs about her experiences of travel, food, books, mindfulness.
Please join me in welcoming Shalini to my space here and I hope you enjoy her informative travelogue.
Over to you, Shalini…
On our trip to Dharamshala, it made sense to include visits to the beautiful monasteries around the place. Then we heard of the Norbulingka Institute which is a self-sustaining community of Tibetan people who endeavour to preserve their art and traditions through it. Intrigued we deigned a visit to it promptly.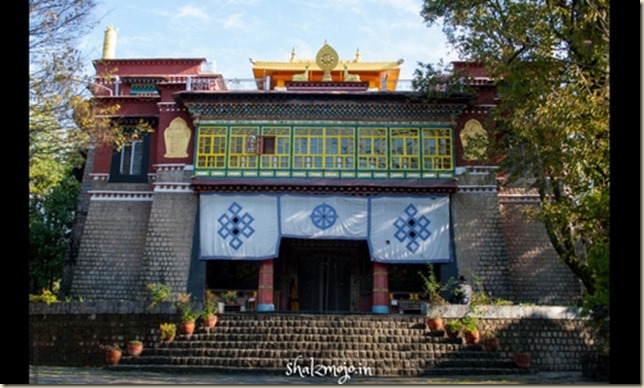 Nestled in a deep forest with tall pine trees all around and snow clad peaks visible in a distance, the institute could be well mistaken for a health resort. Its located in a pretty region called Sidhpur which is about half an hours drive form Mcleoganj.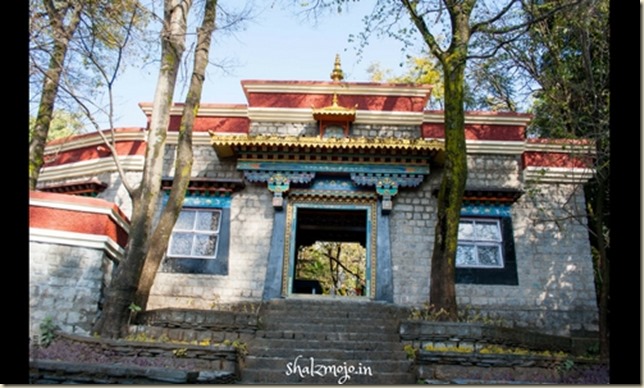 Gorgeous colours painted on the façade of the buildings which are built in typical Tibetan style- the architecture consisted of stepped style of Pagodas but there were no curling edges and natural elements like dressed stone was used to build them all. The ornamentations came from a profusion of colours and geometric patterns painted as borders.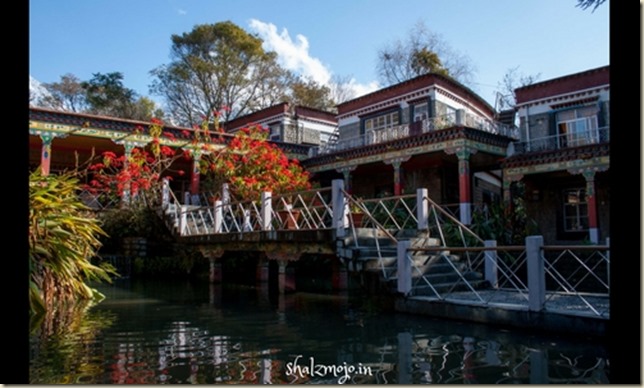 Walking into the place, we were stunned to note the silence; it felt as if we are the only folks there. Not a soul in sight and the only sounds was of the birds twittering in the trees. Bushes of vividly coloured flowers, dense foliage of the trees and a stepped pathway marked through a water body, made for a very pretty picture indeed. I felt as if we have stepped into a luxury resort, hidden away in the mountains. Later I came to know the landscaping has been modelled on the Japanese garden style.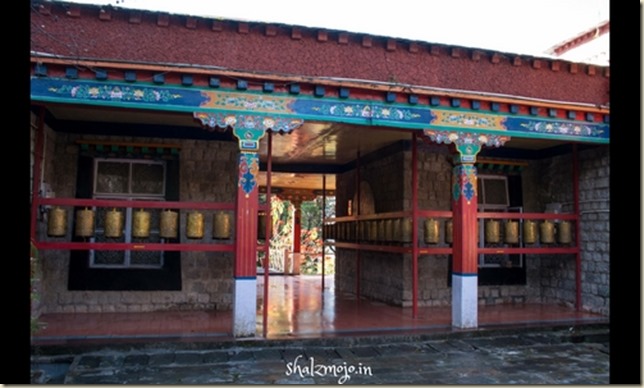 The open verandas lined with rows of prayer bells made for a very pretty picture. They have a temple, museum, rooms, shop and workshops in the premise which charges 100/- as fee from tourists. One can take a guide at the entrance or simply roam around on your own; we chose to do the latter.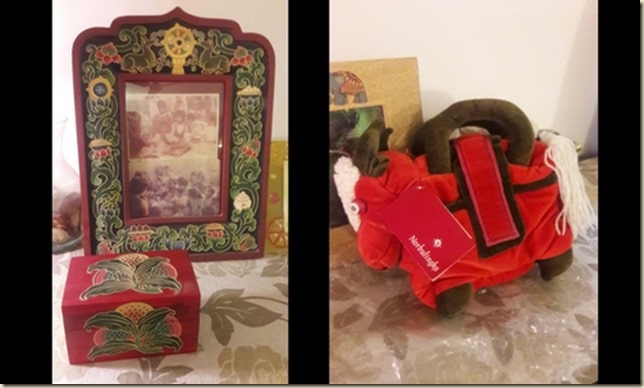 We stepped into the workshop/shop area where the products (all made in house) were on sale. I wanted to buy everything that was there and only the price managed to restrain me as things were a bit steeply priced. But then handmade items are generally so. The craftsmanship of every item – Thangkas, statues, furnishing items, etc – was superb to say the least. I picked up a silver ring, wooden hand painted frame, a wooden box to match, a yak shaped handbag and a few other motley items.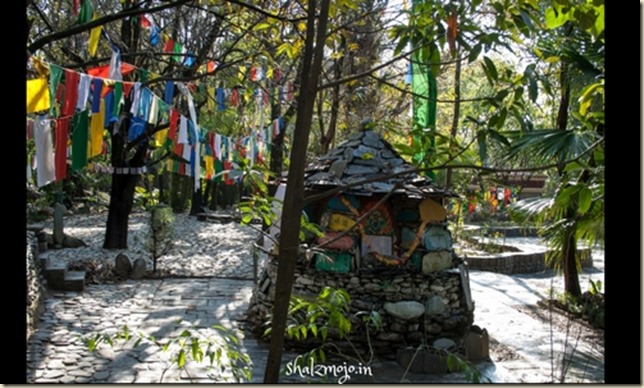 The idea behind crafting every product is the story it will tell you; whether it's through the design or the materials used or the technique employed. Their primary focus is storytelling of their traditions and heritage through them. It's a powerful idea and is executed brilliantly in every item I saw there.
The people employed there are all masters and their apprentices and everyone is of Tibetan origin. The aim is to provide crafting skills to help them sustain themselves and preserve their culture as well. All the proceeds go towards maintaining the institute.
There is a small café in the open too for the visitors to sit and enjoy some Tibetan delicacies. I loved its name – the hummingbird café!
BTW they offer workshops for folks who want to learn their art and crafts as well. You get to work under a master artisan who will assign a project to you and at the end of the workshop; you will go home with a beautifully crafted item that was especially handcrafted by you. Aint that something now!!!
Their temple is a beautiful dedication by the craftsmen to Buddha and its evident in the stunning embellishment on the walls and the statues. Brilliant colours, patterns and artistry is the impression that you take away with you.
Not to be missed is the Tibetan doll museum where each one of the 150 doll is dressed in typical Tibetan textiles and offers a stunning peek into this colourful and vibrant culture. Entry fee is 20/- to the Losel doll museum.
If ever you are in the area, I recommend a visit to this place just to see the beautiful crafts of the Tibetan people and soak in the serene atmosphere of this gorgeous institute.
_____________________________________________________________
About Shalzmojo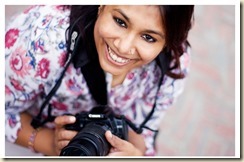 An interior designer by profession, writing is a passion which coupled with travel love blossomed into this blog where I love to just "do my thing"! Be it recipes, food events, travel jaunts, fiction dreaming or even meditative musings; all of it's taken up quite passionately on my blog. I am a serious wine guzzler and love to chase butterflies in my free time.
Savour some Zen in the glen in this old post of mine Here
This post is written for the December bloghop #mymojo with Shalzmojo
Linking up for #wordsante with Namysaysso for every post deserves some love