My Book Reading Challenges 2018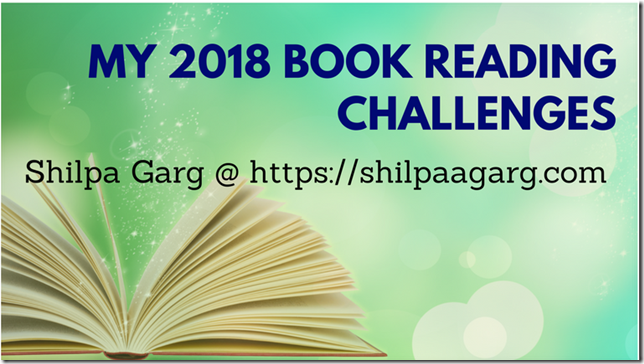 I love reading. I've been reading on a daily basis for years now. Probably, it's the only healthy exercise that I have been able to follow religiously.
I also love challenging myself, so not doing a reading challenge would almost be a crime. I have been taking up reading challenges since the last 5 years. And in these past few years, I have read a lot.
Reading challenges have pushed me to read a little more. A little differently. About different topics. I remember a time, when I was reading only romance or just thrillers. Reading challenges have definitely helped expand my reading experiences. Because of the prompts from the various reading challenges, I have stepped out of my comfort zone and read non-fiction and dystopian novels and explored some genres and authors which I was totally ignorant of. For example, I was unaware that there is a sub genre of Romance called Christian Romance in which both the hero and heroine are devout Christians and are typically focused on a chaste courtship.
I enjoyed every bit of My 2017 Reading Challenges and I am very excited about this year's challenges which I have picked up for myself. Have a look at them…
1. Goodreads

Shilpa
has
read 1 book toward
her goal of
100 books.
This will be my second year for the #BrunchBookChallenge. I loved sharing my books and checking out books by other readers at Twitter for this challenge. From 36 books in 2017, this challenge is pushing the readers to read 50 books in 2018. And there's this excitement of winning a big number of books at the end of the year with this challenge.
This is my favorite challenge, for this one has truly expanded my reading horizons. I love exploring books for the various prompts and then buying and reading them too. Thanks to the Pop Sugar Reading Challenge, I have read such diverse books. I am excited about the prompts for this year.

I have read quite a few classics during the school days.I have been meaning to re-read some of them for a while now but never got around to do that. When I saw this challenge, I gave a whoop of joy. I am looking forward to the endless possibilities of rediscovery by reading some old classics with this challenge.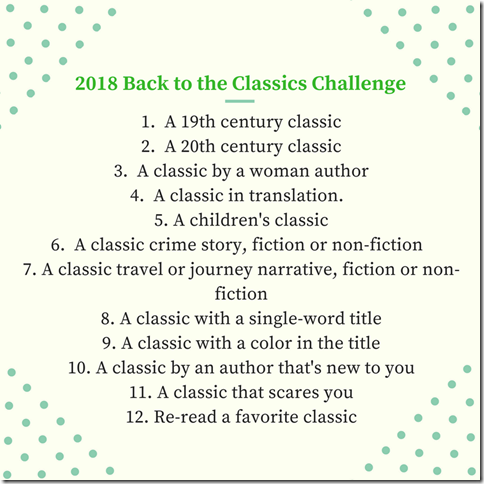 5. 2018 Read Your (Book) Shelf Challenge #ReadYourShelf
I failed miserably with the last year's #ReadMyOwnDamnBooks 2017. Since I have become a Kindle convert, my books in my bookish cupboard are totally ignored. I have some fantastic books on my book shelves and I want to read them. In this challenge, one has to pick 12 books from their book shelves and stack them, click a picture and read one book every month in forward or reverse order. Given below is my pile of 12 books from my book cupboard which I am going to tackle this year.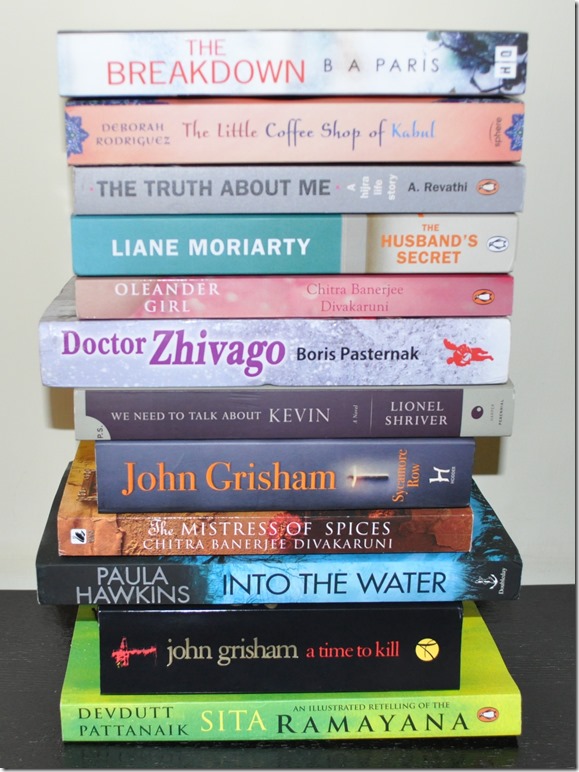 6. 2018 Personal Growth Reading Challenge
Personal growth is a journey to explore and develop yourself. It helps you to develop physically, mentally, spiritually and intellectually. Through this challenge, I'd like to educate and inspire myself to be a better version of myself. In this challenge, one has to read 26 books on the given topics.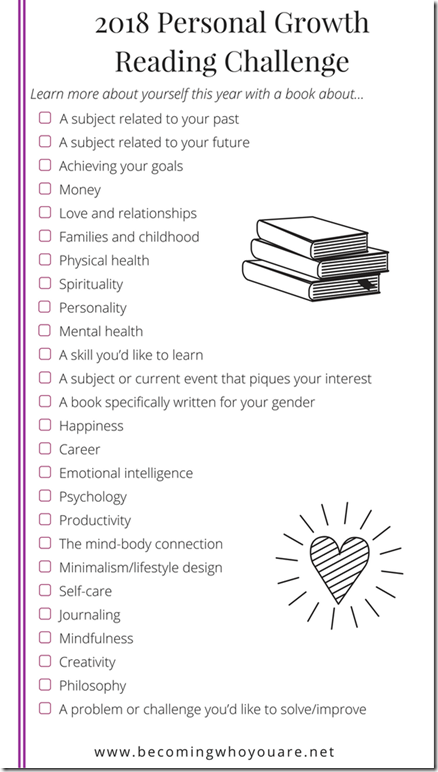 These are the reading challenges that will keep me busy all through 2018.
If you are looking for more such reading challenges, check out The Master List Of 2018 Reading Challenges
What about you – do you do reading challenges? If so, which one?
In my next post, I'd share my experiences, learnings and strategies for reading more. Stay tuned!