Connect with Cuddll
Splitting from your spouse is a rollercoaster ride in terms of emotions and life in general. There's pain, grief, anxiety, confusion and fear to deal with, along with a million other things like finances, logistics, legal hassles etc. And if you are moving to a new city with a new job, then it's double multiple whammy.
Our friend Priya had to go through all this recently. Since my husband and I were her only friends in the city, we helped her settle down in her new home. We helped her establish the new normal by inviting her for dinners at our place or going out for movies or taking her along with us to our social meet-ups.
Within a few months, she had her own new circle of friends and had a social life busier than that of a socialite. She was going for some really cool events and meeting some interesting and like minded people. We were glad for her, for she was letting go of the past and trying to get back to normal life. But we were concerned a bit too, and didn't want to see her hurt or troubled again.
To put our worries to rest, she showed us the Cuddll app on her phone. Cuddll is social networking – lifestyle app that is based on the premise that you make your best friends when you do something together. And the first logical step is to start a conversation on a common topic of interest. So people who are located around you and doing things that interest you can be your potential friends. It's an app that lets users discover people who are willing to engage in group activities around them. Users can join informal social gatherings and chat with other users who are also looking to attend the same gathering.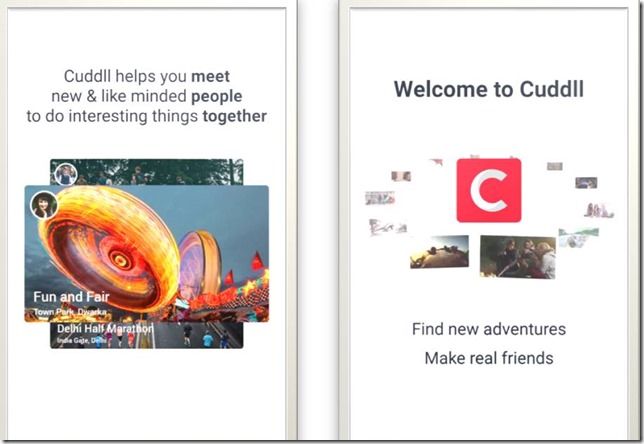 Based on your interest you can select any of the activities viz
Celebrate – Birthdays, Other
Visit – Heritage, Festival, Other
Play – Football, Cricket, Badminton, Tennis, Other
Meet – Photographers, Social Workers, Writers, Travelers, Musicians
Discuss – Politics, Religion, Business, Books
Drink – Beer, Coffee, Tea, Other
Dance – Bollywood, Salsa, Free-style, Other
Eat – Lunch, Dinner, Breakfast, Other
Go For – Swimming, Running, Clubbing, Shopping, Other
Watch – Movie, Theatre, Netflix, TV Series
Teach / Learn – Blogging, Baking, Make-up
Chill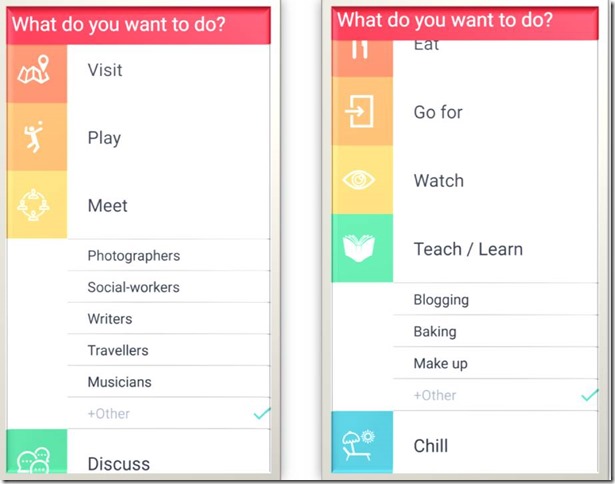 Basically, you can meet new people, plan a social gathering or join someone's invite (they call it Cuddll in, actually), do something together in a group, share experiences without sharing phone numbers or connecting on any other social media platform. Cuddll members can initiate and engage in social hangouts around them without the involvement of a formal organization or compulsory entry fees. And you can do all these amazing things, meet awesome people and discover unique adventure experiences on dates suitable to you, around places near you.
Cuddll is an event created by an individual at a particular location and time. You can sort and filter Cuddlls by using the following four filters…
Chronology, activity level and the popularity of the Cuddll
Interest categories
Date or period
Location and the radius around it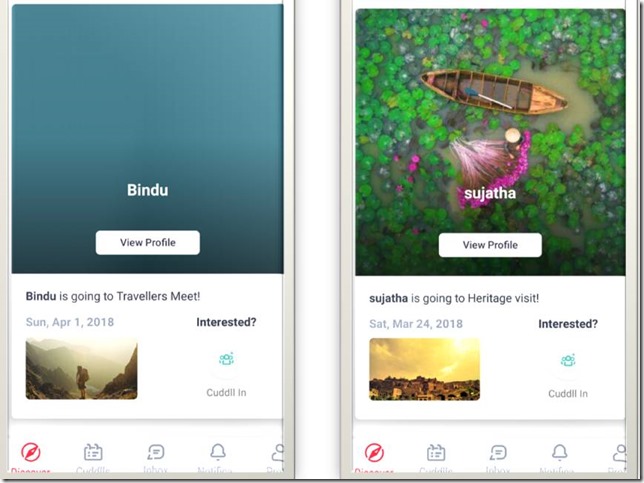 As we looked on with interest, Priya explained that with dating apps, you can find singles with interest in hard rock or trekking, but you can't find singles who have a great sense of humor and are good human beings. Because that can be found only when you meet the person in real life.
With Cuddll, this gap is filled completely. For instance, when you opt to share your blogging tips or learn baking from someone or go on a heritage photo walk, you are engaging socially with people who share your interests and that way you get to know them personally. Cuddll helps you to engage in one to one interactions that goes beyond physical appearances, and enables you to come forward and speak your mind in groups. It removes the pressure of sounding entertaining and engaging from the go.
With Cuddll, the experience of finding new friends is easy, comfortable, exciting and secure. These aspects appealed to me too. On dating apps, there isn't any dearth of  fake profiles and there are people who can even fake all about themselves while communicating online. Who knows you could be chatting with a scammer, or a troll or a criminal!! Believe me, it's not a far-fetched thing these days! In that respect, Cuddll seems to be a safe and secure way to meet new friends.
Priya explained that Cuddll actually fills the gap between dating apps which are used for social discovery and Facebook, which is used for virtual connections. She shared that men have it hard and majority of them do not get a swipe on the dating apps and hence they are unable to make new friends. While women are vary of these dating apps as people are generally there on these sites for hookups. As for Facebook, the connection is just limited to the virtual world. Hence there is no real life solution for friend finding.
We are very happy for Priya. She isn't having sleepless nights and is not sitting alone and moping about her past. She is embracing the present and looking ahead. She is meeting newer people, she can connect and interact with, people who share her passions. And all this not behind a screen but out there in the real social world.
Thanks to #Cuddll, the gloomy and dark clouds of pain and hurt are a thing of past for Priya, as she is discovering joys, learning new skills, seeking new adventures, meeting new people and living her life, again.
Have you used Cuddll? Would you like to explore it? What do you think about this new app that makes making friends really easy and real too?