9 Annoying Things About Hotels
A stay in a hotel immediately brings to mind the conveniences and the expectation of being pampered. And when they say, it's a home away from home, you expectations of cleanliness and great service, go a notch higher. But what happens when the expectations fall short? Right from a star hotel to a budget hotel, there are many annoying things about hotels that make me lose my cool.
So here I go…
The Unhygienic Practices : This is my major grouse. Right from a 7 or a 5 Star hotel to a regular hotel, a guest house or a camp site to a home stay, the unhygienic conditions that prevail everywhere is abominably revolting. A report revealed that fecal bacteria was found on an astonishing 81% of the 18 surfaces analysed in hotels!! I remember seeing a cart full of towels and bed-sheets, and accidentally the towels fell on the ground (of course, they didn't fell in a neat pile, so that one could discard the one touching the ground!). The housekeeping guy, simply put them back in his cart and unsuspecting customers like us would use them lovingly to wipe our faces… In yet another incident, I was in this 5-star property, admiring myself in the mirror. Just then a housekeeping lady entered with a small white napkin. She entered the stall no. 1 and wiped the toilet seat with that napkin. Then she moved to stall no. 2 and wiped the seat with the same napkin. I was shocked and disgusted. After her repeat performance in the next 2 stalls, I told her that she is not cleaning but making the toilet seats more dirty and spreading the germs too. She responded with a blank look!
Pillow Woes: The pillows and mattresses in the hotels come in only two varieties… as hard as a rock or as soft as a pudding. There is no in-between or the just right variety. You either get up in the morning with a sore back or with a sore back! Then some hotels there are sooooo many cushions on the bed, that it takes ten minutes to move them all off the bed on to the chairs before you retire. Any more, and they should be going out of the window.
Electrical Sockets So Rare and Precious! : Sometimes, I wonder, if it is a rule that the electrical switches in hotels should be at unreachable places. In one hotel, the charging point was near the entrance of the room. So, when the alarm rang in the morning, I had to drag myself out of the bed to stop its incessant ringing. What a wonderful way to start a day!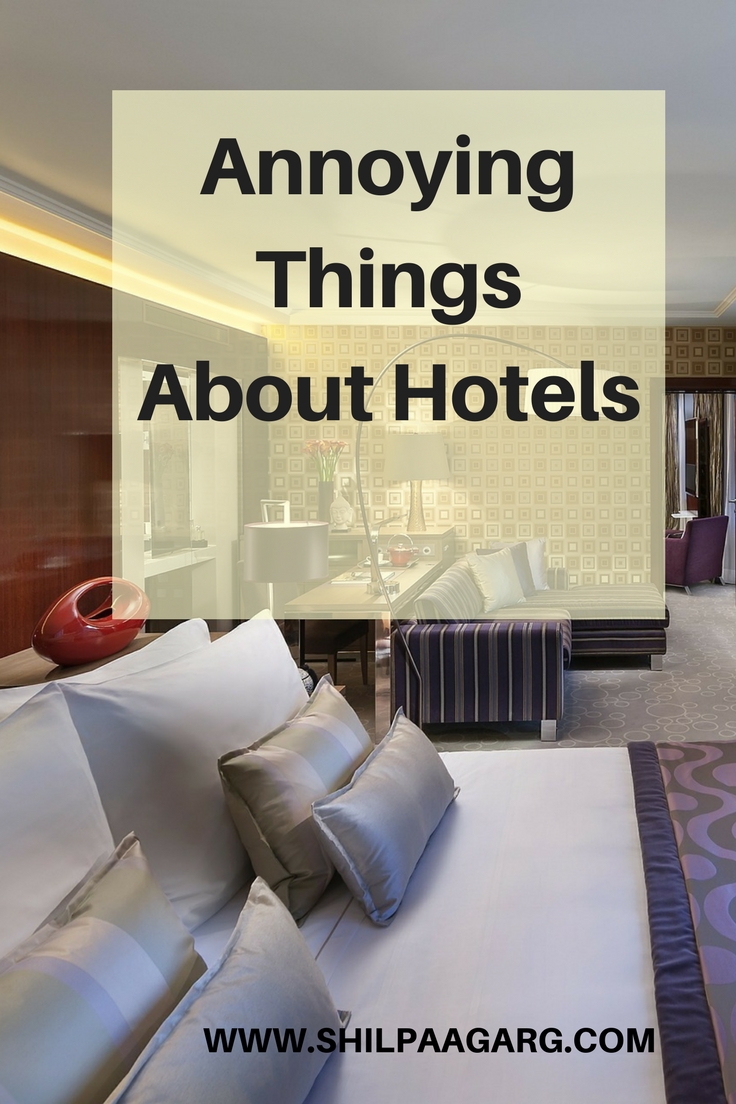 Bathroom Fixtures to Test Your Intelligence : Each hotel has its unique and complicated set of bathroom faucets. They are never the simple ones. You are in a hurry to get ready and you have to struggle to get the tap to function!
Tipping Woes : I always believed that a tip is a reward for good service rendered and should be at our discretion and is in no way a mandatory custom. But at some hotels, right from the concierge, to the house keeping guy to the guard at the entrance, or the driver of the cab, all expect you to pay a tip even if you are far from satisfied with their services.
The 'Friendly' Staff : Smaller the hotel, bigger are the chances of meeting the most unprofessional, casual, uncaring and even rude staff. Expecting a friendly and a professional staff from a service industry is a tall order.
Exorbitant Room Service Charges: Even a regular bottle of mineral water costs ten times its actual cost. A club sandwich with taxes was presented with a bill of Rs 850 only!
Early Check-Out and/or Late Check-In : I've been to hotels that only allow check-in from 1 pm and require you to check-out by 10 am. How much time do you end up spending there then and how much time do they need to clean the room? You end up feeling like you've been cheated– especially on a one-night stay. And then they charge extra if you check-in early or leave late!
No Resemblance Between Real and Virtual : Last time we decided to stay in a home stay at Shoghi, near Shimla during Aaryan's school exeat. After scanning more than dozen homestays on the net, we finalized one. On reaching the property we were speechless. The pictures on the internet were so very different from the reality. The food was great and that was a saving grace! At another place, the pictures were that of a large luxurious pool, while in reality it was a swimming pool for kids. When an advertised product or a service is far from reality, it is truly annoying.
Do you have any hotel woes? Do share them in the comment box below.
My theme for this year's Blogging from A to Z April Challenge is Notes from the Road, which has my thoughts, views, experiences, tips, stories inspired by my years on the road.