Travel Movies That Inspire Wanderlust
Movies are not just a source of entertainment; they help in a subtle way, to consider ideas we may not have considered otherwise. There are so many movies that showcase the beauty of a place and inspire us to get off the couch, pack our bags and head to that very land, all while telling a captivating story.
If you are looking for inspiration to spark your wanderlust, here are some 10 amazing travel movies of all time.
Into the Wild (Adventure – 2007) – Into the Wild is the true story of Christopher McCandless, a college graduate who gives away his life savings and hitchhikes to Alaska. Along the way, he encounters a series of characters that shape his life. In Alaska, he heads out into the wilderness to live on his own. His life is filled with random adventures and experiences while he makes his way up to "The Last Frontier".
Under The Tuscan Sun (Comedy – 2003) – The film is about Frances Mayes, a 35-year-old San Francisco writer whose perfect life has just taken an unexpected detour. Her recent divorce has left her with terminal writer's block and extremely depressed. Her best friend, Patti, is beginning to think she might never recover. Frances decides to take a break and she buys a villa in the beautiful Tuscan countryside and decides to begin anew. Restoring her new home, she eventually finds the fulfillment she was searching for, including love.
Eat Pray Love (Romance – 2010) – A married woman realizes how unhappy her marriage really is, and that her life needs to go in a different direction. After a painful divorce, she takes off on a round-the-world journey to "find herself". Film locations included New York in the USA, Naples and Rome in Italy, and Delhi and Pataudi in India, as well as Padang Padang Beach and Ubud in Indonesia.
Zindagi Na Milegi Dobara (Comedy Drama 2011) – Three friends, Friends Kabir, Imran and Arjun take a vacation in Spain before Kabir's marriage. The trip turns into an opportunity to mend fences, heal wounds, fall in love with life and combat their worst fears.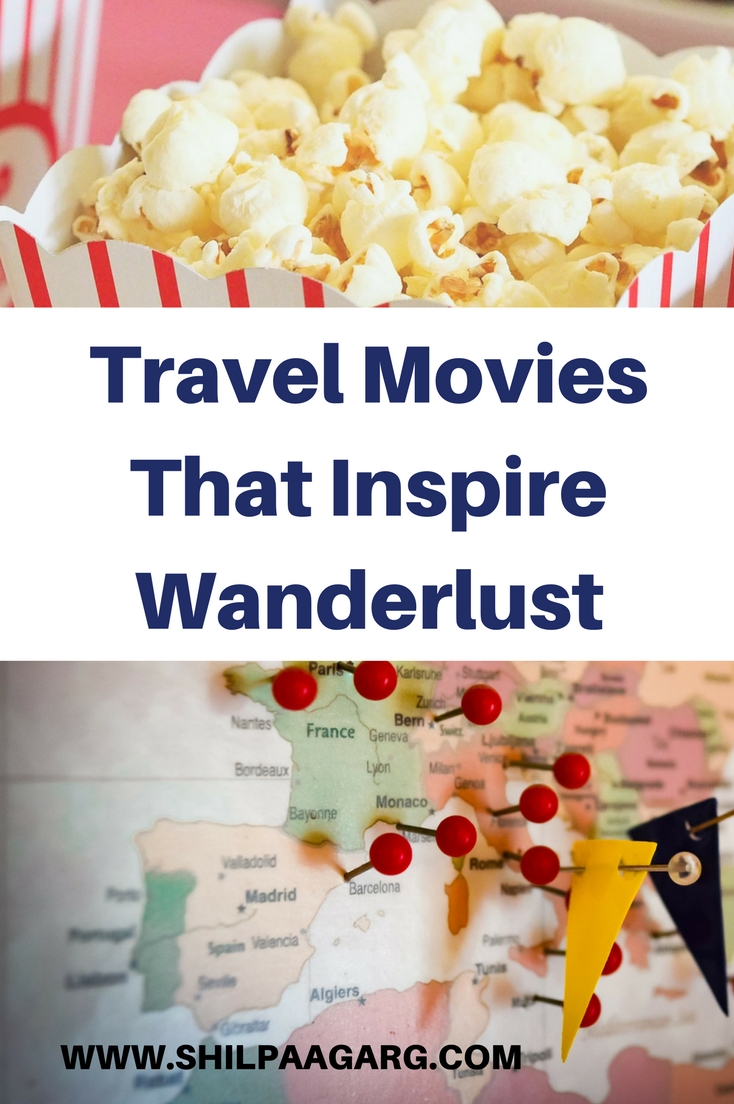 Queen (Comedy Drama 2014) – Rani, a 24-year-old homely girl, decides to go on her honeymoon alone when her fiance calls off their wedding. Travelling around Europe on her maiden solo trip, she finds joy, makes friends and gains new perspective about living life on her own terms.
The Secret Life of Walter Mitty (Adventure 2013) – When his job along with that of his co-worker are threatened, Walter takes action in the real world embarking on a global journey that turns into an adventure more extraordinary than anything he could have ever imagined.
Wild (Adventure 2014) – A chronicle of one woman's 1,100-mile solo hike undertaken as a way to recover from a recent personal tragedy. Cheryl Strayed, a writer crosses the dusty Mojave, crazy forests, snowy fields, and muddy trails, losing toenails but gaining mental clarity—or at least self-acceptance—along the way.
Up in the Air (Drama 2009) – Ryan Bingham is truly living the high life. Flying all over the world on business, he never stops moving… until he meets Alex, a fellow passenger and learns that life isn't about the journey, but the connections we make along the way.
The Darjeeling Limited (Adventure, Comedy, Drama 2007) – After the death of their father, three brothers set out on a train journey across India, in an attempt to rediscover their lost bond. The experiences that they have force them to introspect.
The Bucket List (Comedy, Drama 2007) – Two terminally ill men decide to explore life and make a bucket list comprising all the things they haven't tried before. On their around-the-world vacation, they go skydiving, drive a Shelby Mustang, fly over the North Pole, eat dinner at Chevre d'or in France, visit and praise the beauty and history of Taj Mahal, India, ride motorcycles on the Great Wall of China, attend a lion safari in Tanzania, and visit the base of Mt. Everest in Nepal.
Which of these movies have you seen? Which are your favorite travel movies?